If you're hoping to find a quality pet vacuum at an affordable price, you'll be interested in the powerful Shark Cordless Pet Perfect II Hand Vac. It is completely cordless and features some handy attachments. The price is comparable to other cordless handheld pet vacuums and it comes in a beautiful lavender color that looks great with any decor. You will also be backed by a limited 1-year warranty.
Motorized Brush
The TruePet Motorized Pet Brush is designed to pick up pet hair from all surfaces and is one of the features that makes this handheld vacuum a winner. The extra-large motorized brush is capable of pulling up even embedded pet hair in the upholstery and on the pet bed. If you need to get all that extra hair out of your bed from when your furry friends like to snuggle, this is a great option. It is also ideal for sucking up the ground-in dirt on your carpets you often find after the pets have been outside.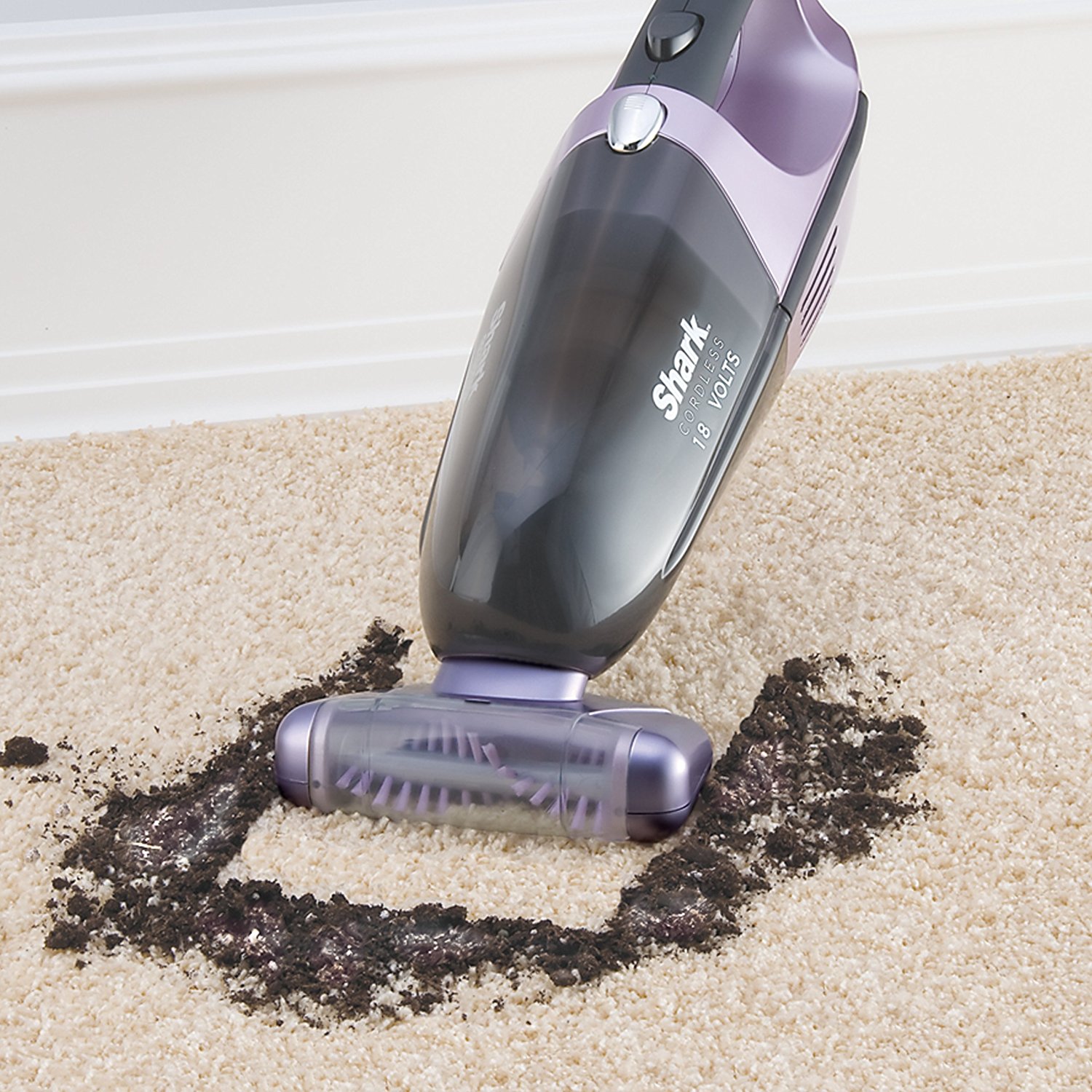 You'll want to consider using this in the car after you take the dogs for a ride for easy cleanup on the rugs and seats.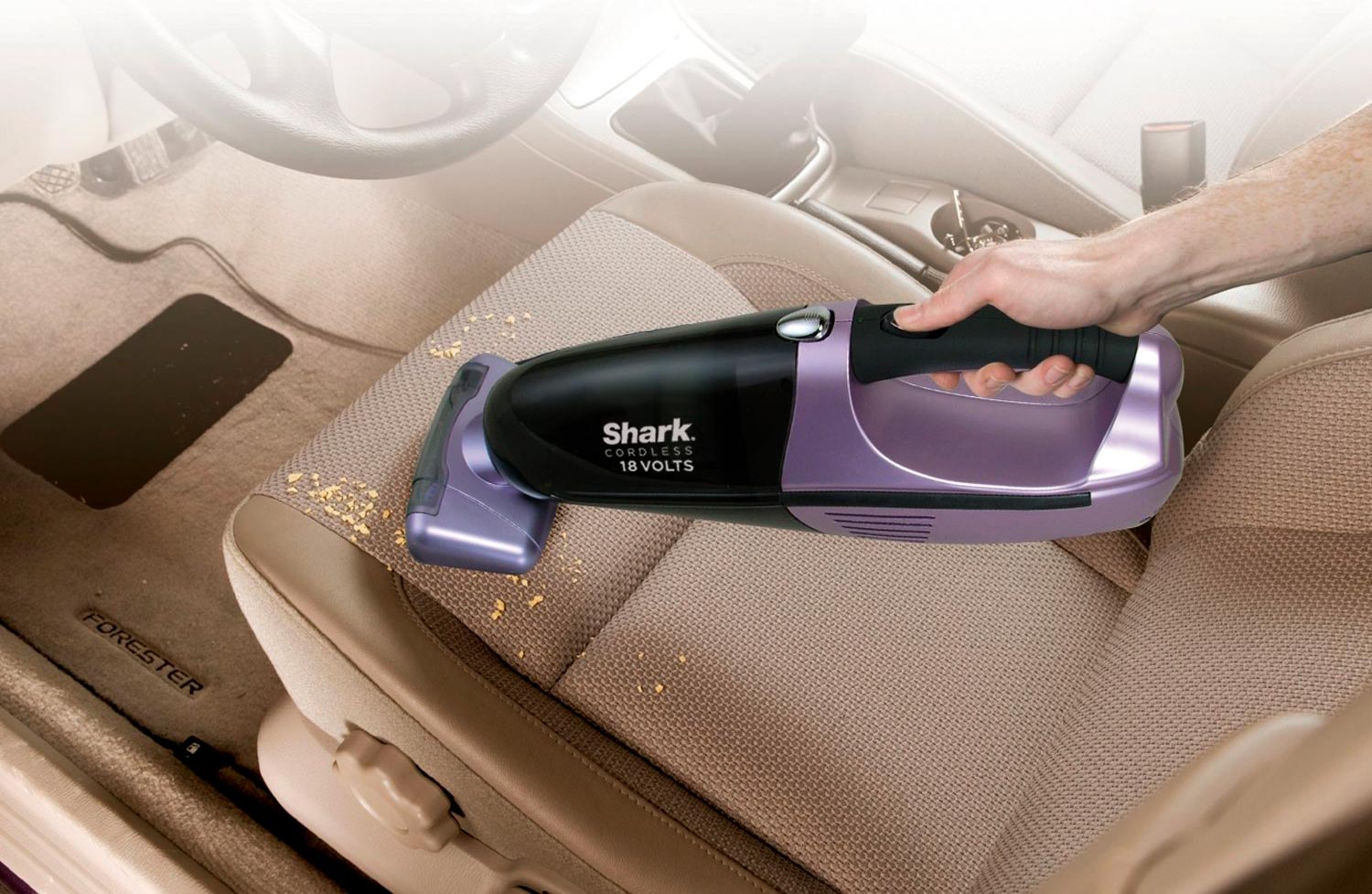 The only thing I noticed was that the motorized brush can sometimes be difficult to clean when dealing with long pet hair. Thankfully, you'll find this motorized brush has some amazing cleaning power behind it.
Cleaning Power
This powerful cordless handheld vacuum features 18-volts of cleaning power. The company boasts that this provides 35% more suction power than your typical 15.6-volt unit. Cyclonic technology was first introduced in the 80s by Dyson vacuums and is a great asset to cleaning because it creates a high-speed spiral of air that will draw the dirt out of even the thickest carpets or upholstery.
Shark uses Twister Cyclonic Technology in this particular model so you'll receive the swirling tornado effect of speeds up to 200 miles per hour capable of sucking up dust and debris all over the home. In cleaning tests, this vacuum excelled at picking up flour, sugar and other fine particles on hard floor surfaces. It also sucked up medium and large particles such as rice and dry beans with ease. I found that this can essentially pick up most messes on hard floored surfaces.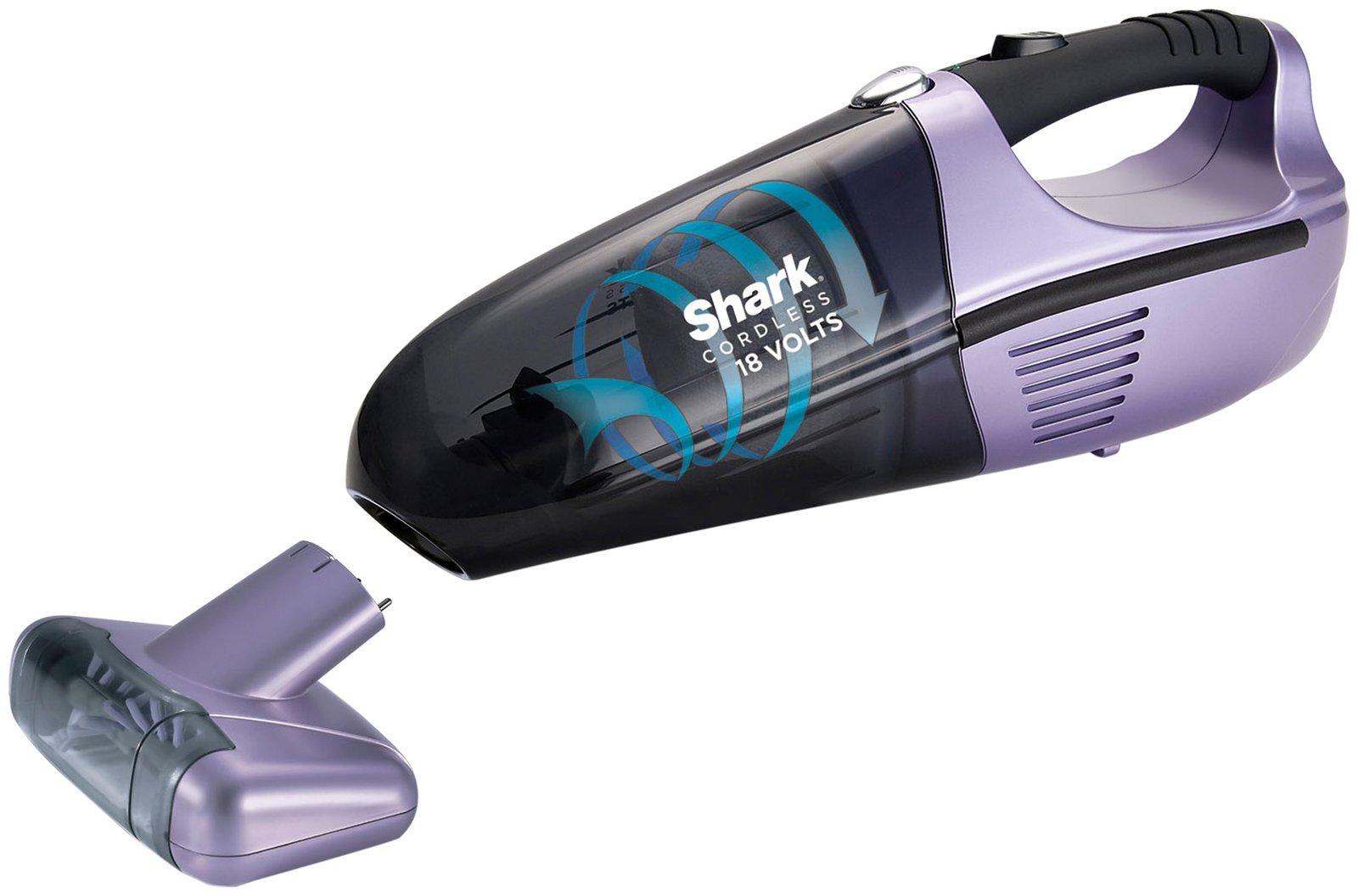 On carpeted surfaces, it was able to lift those fine particles with no issue and did excellent on the medium and large particles as long as the motorized brush was removed prior to use. If you attempt to clean those larger pieces of dirt and debris with the brush still attached, you might find that it spits the objects around instead of sucking them up. You might consider using this vacuum on your carpeted cat tree as it can often be tough to reach the higher levels with your standard cleaner.
Other Tools Included
This pet vacuum comes with two other tools to get the job done and provide optimal versatility. First, you can use the crevice tool for hard to reach areas and sharp corners. It works great on the edges of the stairs and in the seams of bathroom tiles. If you want to get that pet hair out from between the couch cushions, this tool is what you want to use. Keep in mind that it might be slightly shorter than what you need when trying to go deep into the space between the car seats.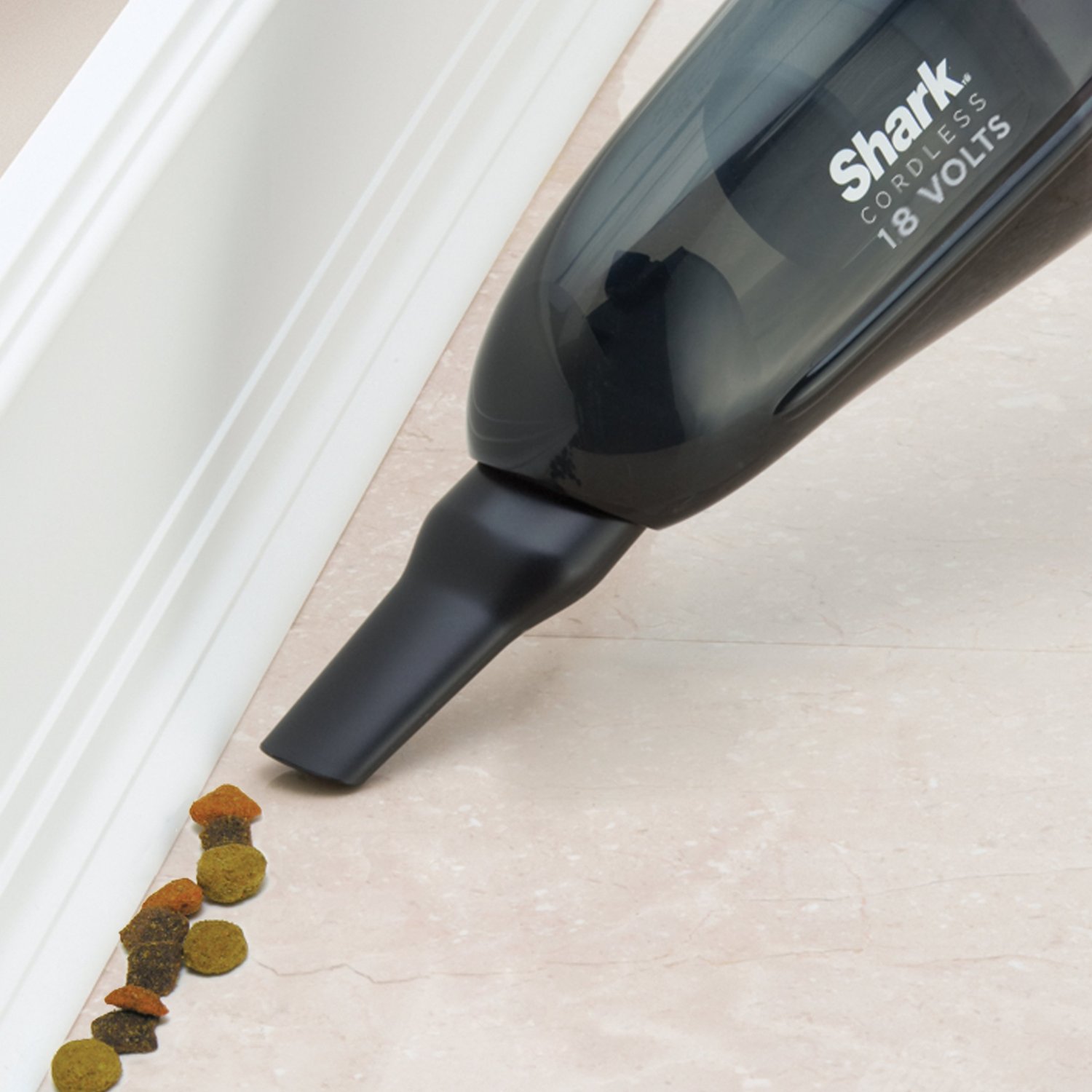 The dusting brush is the perfect option to complete your fine-particle cleaning jobs. Use it on wooden floors and ceiling panels. You might even consider using it behind the appliances and furniture of your house for those deep cleaning projects you tackle.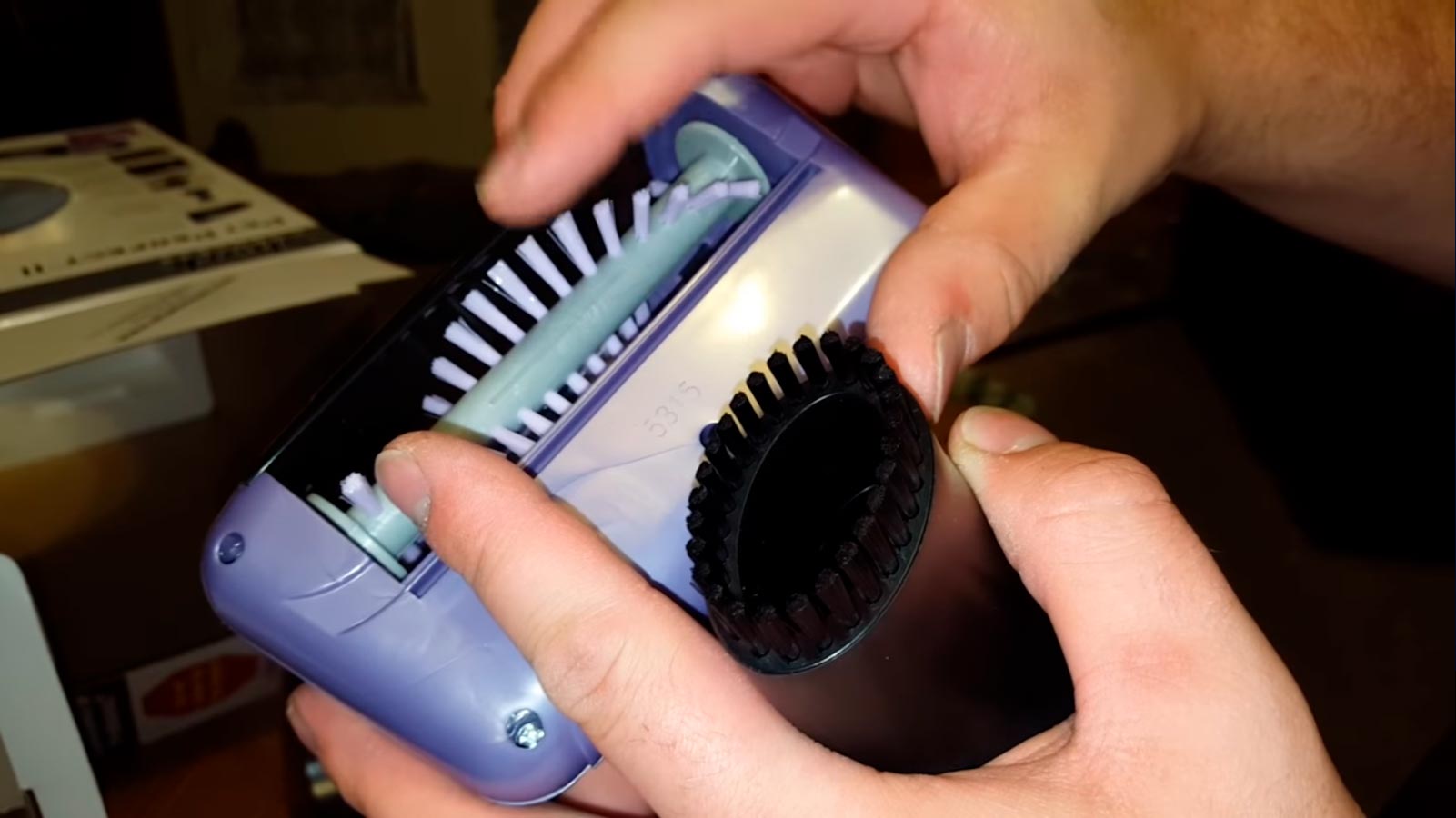 If none of these options seems ideal to you at the time, you could also choose to use direct suction to pull up the dirt.
The three attachments that come with this pet vacuum do not have locking mechanisms, but taking the time to attach it securely before vacuuming will ensure they don't fall out during your cleaning projects. You will not able to store the attachments directly on the handheld unit, but they could be put on the charging station which doubles as a storage case.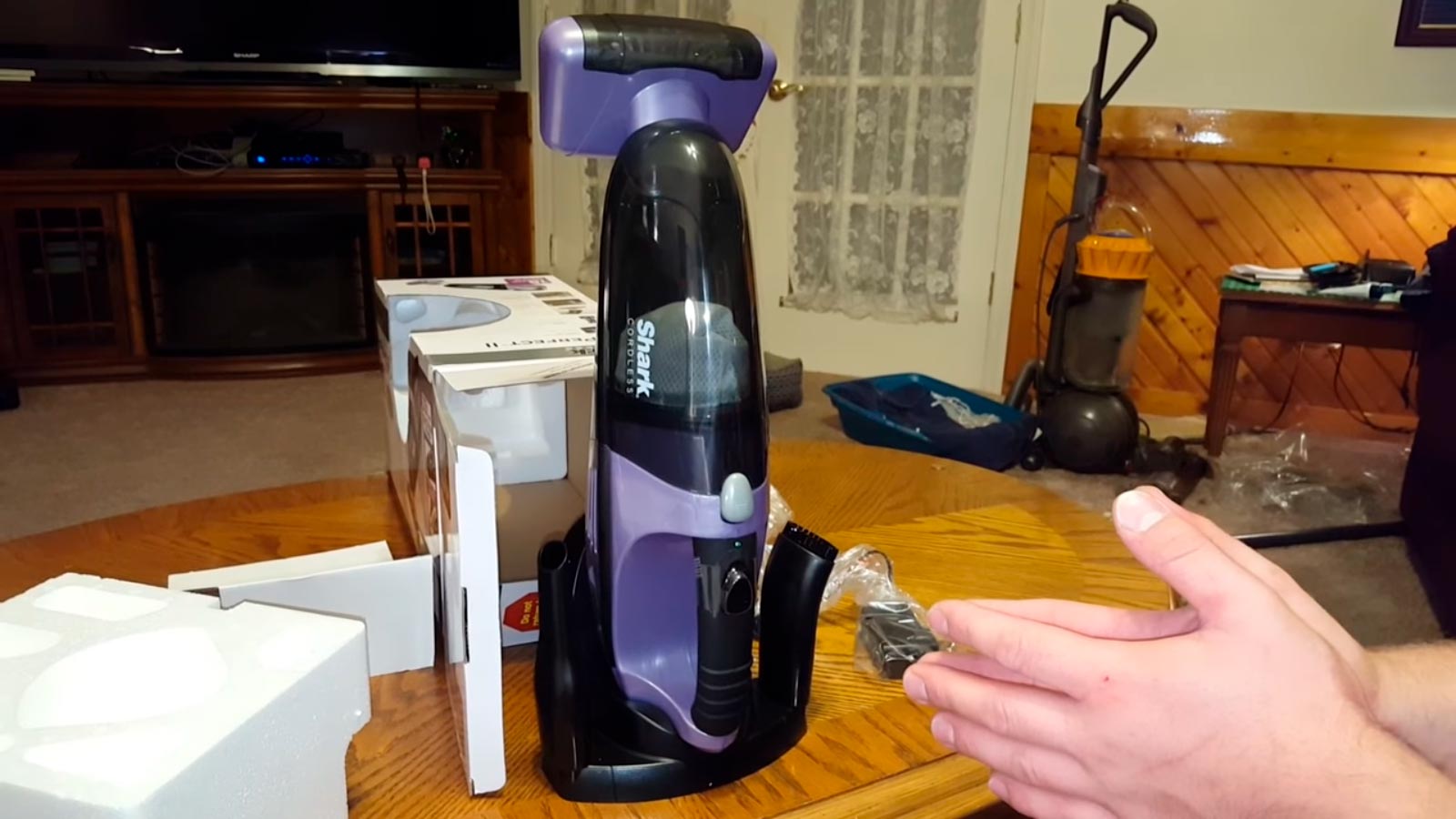 Battery Power
This handheld pet machine features a rechargeable 18-volt NiMH battery complete with a charging stand that can be mounted on most any wall. A nickel–metal hydride battery isn't as powerful as lithium-ion found in other models but does the trick for those quick, cleaning jobs. The wall-mountable deluxe charging stand not only stores the attachments but also features a LED light to alert you of when the vacuum is ready for use. The easy to install wall mount is ideal for hanging in a closet or any other small space.
The unit will take 16 hours to fully charge after the battery has been run down and up to 24 hours before the first use. The company doesn't guarantee a specific run time, but tests conclude that you probably will receive up to 15 minutes on a single charge. If you are using the motorized brush, your cleaning time might be less than that due to the increased power usage. To extend the life of your battery, you'll want to be sure only to charge it when necessary and remove it from the charger once the battery is full again. When the batteries don't seem to be running at optimal power anymore, they can be easily replaced which is a better financial option than buying a new vacuum and isn't available on all handheld pet vacuums.
The fact that this runs on battery power also means that there is no more tripping over cords while trying to clean areas like the stairs. You won't have to find an outlet to plug into when taking the unit into the car and it is easy for those with mobility impairments to use.
Weight & Handling
Because of the NiMH battery, this handheld is a little heavier at over 4 pounds, but the added power makes that added weight worthwhile. Even with the additional weight, it is still light enough to be ideal for vacuuming in the home, stairs, car, boat or even inside your RV.
An added benefit to this model is the rubberized hand grip which provides superior comfort especially for elderly or if you can get your children to help out with the chores. It is easy to handle and ideal for most anyone to operate.
Bagless Dust Cup
An easy to empty bagless dust cup is one of the high points of the machine and it means you'll never have to buy bags again. This dust cup features an easily detachable and washable filter. The sleek, semi-transparent container allows for you to quickly see how full your dust cup is so you know when it is time to clean out. If you suffer from asthma or allergies, you'll want to be aware that this particular vacuum does not feature any kind of air filtration in the unit.
When you are ready to empty, you'll simply press the dust cup release button and pull the cup out of the machine itself.

Remove the filter and tap it gently on the sides of the trash can to empty the hair, dirt, and debris. If you need to, you can rinse the dust cup filter in warm water and allow to air dry completely before you return it back into the bagless dust cup. As with all other filters, you won't want to put it in the washing machine or use any type of forced air to dry.
Noise Levels
The noise level on this Shark Pet Vacuum reaches just about 80 decibels. That is slightly more than a washing machine or dishwasher, so it is a great option for a household cleaning tool. It is possible to have a conversation with others while cleaning all the pet hair out of your home.
Getting Rid of Upright or Canister Vacuums
Because this unit will only run up to 15 minutes on a full charge, you probably aren't going to be ready to give up your upright or canister vacuum completely for this model. While it is great for quick spot cleaning or doing a deep cleaning project on a specific area like the stairs or car, it lacks the reach needed to do large area cleaning.
It is, however, ideal for pet owners that need a product to clean the pet hair off upholstery and stairs. Its flexibility and versatility make it perfect for cleaning up pet food spills and small messes without dragging out your bigger vacuum cleaner.
Verdict
The sleek design and easy to use attachments make this unit a winner when looking for a quality pet vacuum to use in your home. The 18-volt power supply that fuels the Twister Cyclonic Technology make this a powerhouse capable of suctioning up even the most embedded pet hair and pet dirt.
Shark Pet-Perfect II Cordless Bagless Hand Vacuum for Carpet and Hard Floor with Twister Technology and Rechargeable Battery (SV780), Lavender specifications
Type

Handheld

Cord type

Cordless

Bag type

Bagless

Height

6.1

inches

Weight

4.3

pounds

Battery replacement

Yes

Warranty period

1

years

Warranty type

Limited

Length

4.6

inches

Width

15.7

inches

Brand

Shark