Created specifically for use in a household of pets, the Bissell Pet Hair Eraser Cordless Hand Vacuum comes with several exciting tools including the motorized brush tool. It does a nice cleaning job with low noise but can often take some time charging when dead. This vacuum is priced in an average range among other comparable models.
Background of this Model
This Bissell hand vacuum was designed to become the replacement for the older Bissell Pet Hair Eraser 94V5A model and it offers up some new features. This particular unit carries a one-year limited parts and labor warranty. It is only available in one color, the black/cha-cha lime and is part of the Bissell Pet Foundation where the company actually donates $10 to shelters and rescues for every pet product sold.
Motorized Brush Tool
In this new generation of vacuums, Bissell was hoping to create better attachments with this version. Clearly, the greatest feature of this hand vacuum is the motorized brush tool, so I have to consider it a success for Bissell. It was built specifically to pick up embedded dirt and pet hair and it works well.
The brush roll of the tool is guided by a self-reliant motor that is within the attachment itself. Most other vacuums rely on a brush roll that is powered by suction, which doesn't always provide a reliable clean. With this extra power, this vacuum becomes very useful in cleaning the pet hair off the beds, especially the pet beds.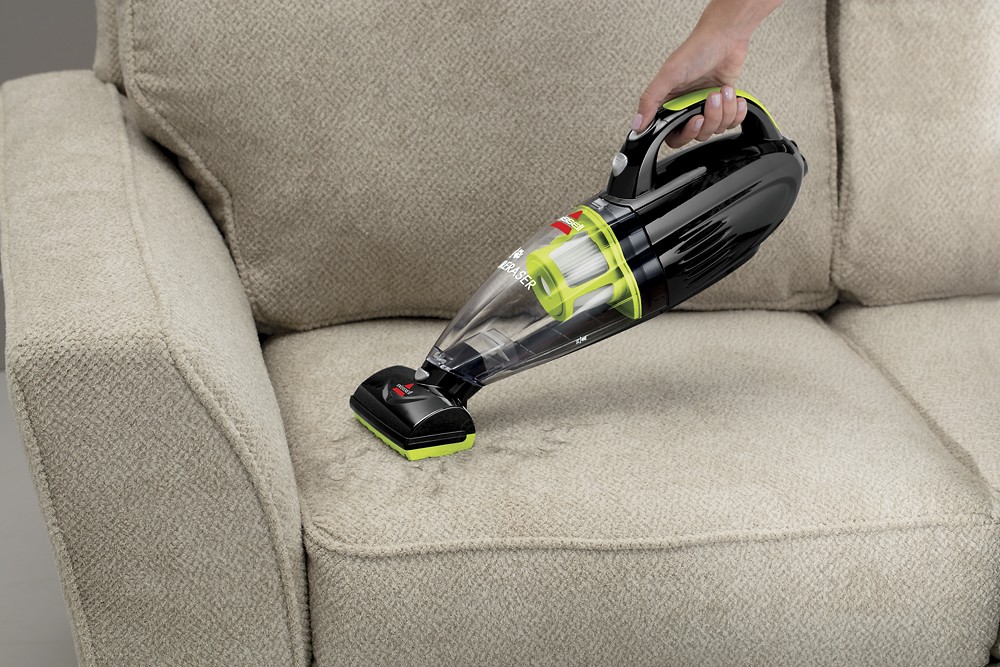 If the brush roll ever gets clogged as a result of having to pick up too much hair, it is a relatively easy fix. Simply remove the tool and pull out the clogs.
Other Tools Included
The motorized brush tool isn't the only asset this vacuum has. There are two other tools available that will help to get the house clean. The crevice tool is designed to get to those hard-to-reach areas and tight spaces. It is perfect for the seats of the car and deep in the couch where pet hair likes to hide. In fact, it slides through the sofa cushions with ease and picks up all that dirt you didn't know existed.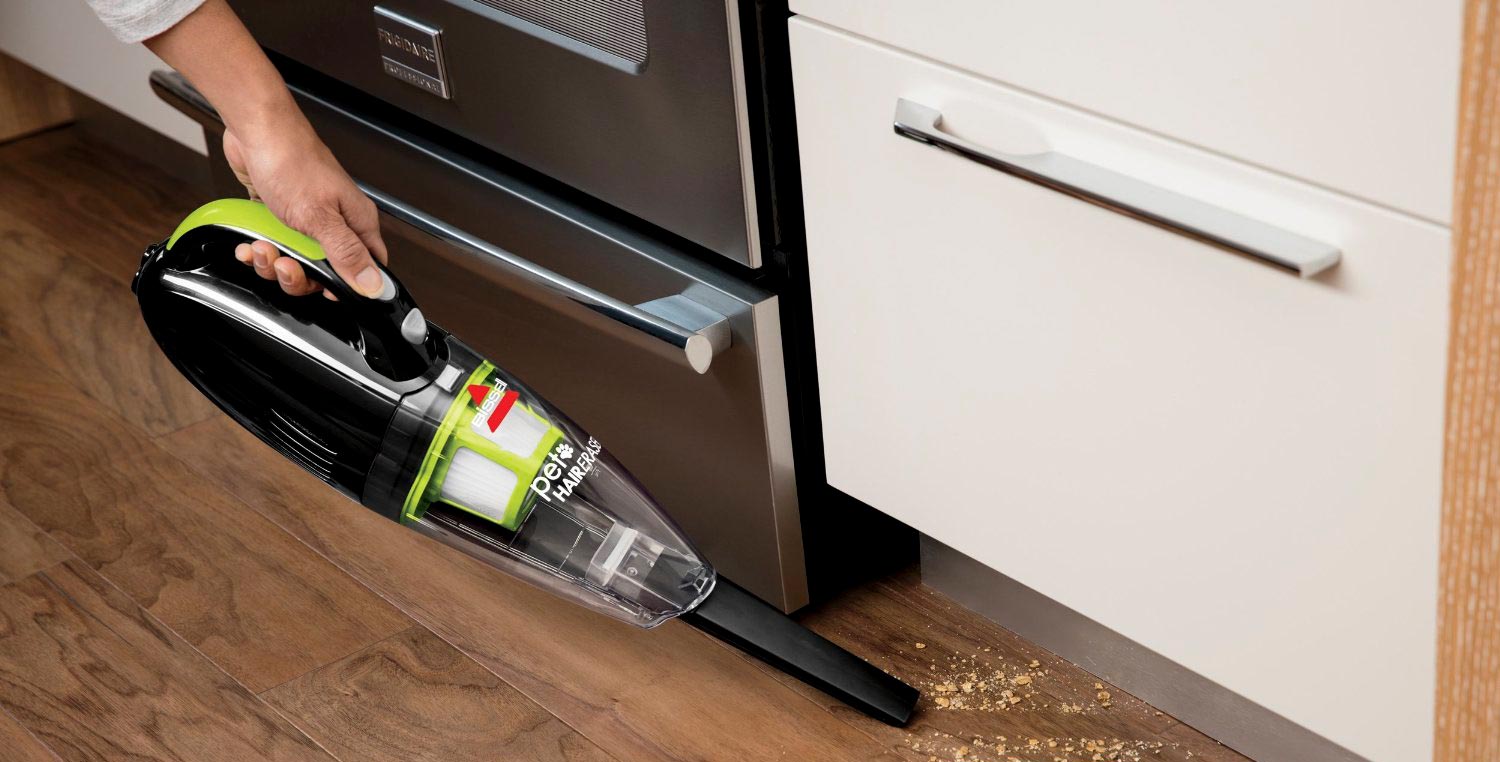 The upholstery tool that Bissell includes is perfect for soft surfaces and furniture. The belt on this tool will actually help to attract dirt and pet hair. This is a great option for use on your delicate furniture as it will not harm it. It can also be rotated clockwise or counterclockwise for cleaning efficiency.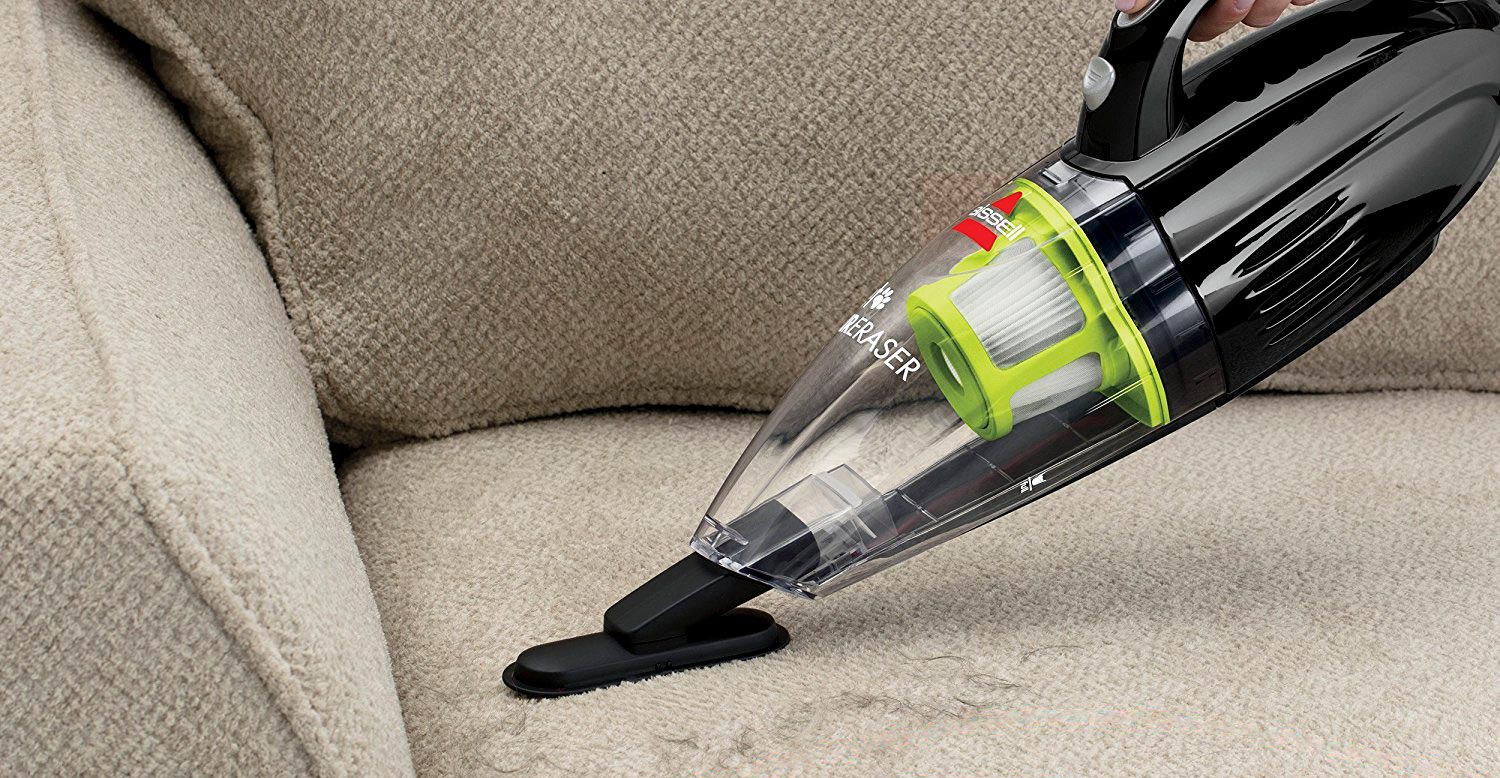 What is unique about these two tools is that you can actually use them together for more effective cleaning. Basically, you'll just put the upholstery tool on the end of the crevice tool to extend your reach. Keep in mind that this unit does not feature any storage area for the cleaning tools, which can be troublesome to a few people, but I think they fit nicely in a spare kitchen drawer.
Cleaning & Battery Power
This Bissell 1782 features a cleaning path of 4.5 inches and has a nice amount of suction. It is powered by a 14.4-volt rechargeable, Nickel Metal Hydride battery. While this isn't the best option for long life, this is a budget friendly vacuum, so I understand the lower-grade battery. You can get a 12 minute cleaning time out of a full battery which seems like more than what I need it for, so I can't complain. However, I do realize that 12 minutes may seem to be not enough time for some people.
It can take up to 5 hours for this battery to charge if the battery is fully discharged, but you can keep the unit plugged in while not in use to keep a full battery. When the unit is charging, the LED lights will be a solid red color. When it is fully charged, the red light will automatically turn off.
Keep in mind that it does not come with a charging base or holder, so you can't hang it on a wall. I don't expect to see that in a handheld pet vacuum at this price, so it wasn't much of a surprise to me. I also would've liked to see a way to swap out the battery in the unit.

Due to the length of time it takes to charge the unit and the fact that it only operates for about 12 minutes on a full charge, I would've desired to have the option to use two batteries. Then I could have swapped one out while the other charged, but that isn't an option with this vacuum.
Lightweight
Weighing in at just 3 pounds, this Bissell Cordless Hand Vacuum is lighter than its brother the Bissell Pet Hair Eraser Corded Handheld vacuum which weighs 4.2 pounds and even the Shark Cordless Pet Perfect II Hand Vacuum which weighs in at 4.25 pounds. This lightweight aspect makes it nice for anyone to use, even the kids.
I found that this is the perfect size to use on the stairs instead of lugging a big vacuum around. It is also nice and easy on the wrists and doesn't feel like you're carrying a weight.
Noise Levels
One of the highlights of the vacuum is that is seemed much quieter than other models. Sometimes when running a handheld vacuum, it can sound like a full-sized vacuum, but that isn't the case with this model. It is possible to run this and still hear the television which is a plus when cleaning up a mess while watching my favorite shows.
Dustbin Features
The other quality of this vacuum that makes it a joy to use is the easy to empty dirt bin. At a 0.7-liter bin capacity, this is a nice big area for pet hair and dirt to accumulate without having to constantly be running to the trash to empty it.
The dust cup can be easily removed when you are ready to empty. Simply push the button on the vacuum and it will be released. Then, tap it gently against the inside of your trash can to expel the dirt and hair. Unfortunately, the dust bin does not have a sensor to alert you when it is full. Considering that you can see into the bin itself, I don't consider this to be much of an issue.
In addition, it features a two-stage filtration design. This includes a pleated filter, but keep in mind that it is not HEPA level material. Using the two-stage design will extend the life of your filter thereby saving money in the future. The filters are washable, so it's as simple as emptying the dirt from them and then giving a quick rinse off under a faucet. Make sure they've completed dried before returning them to the unit itself. For best cleaning results, you'll want to be sure to clean the bin and filters after every use.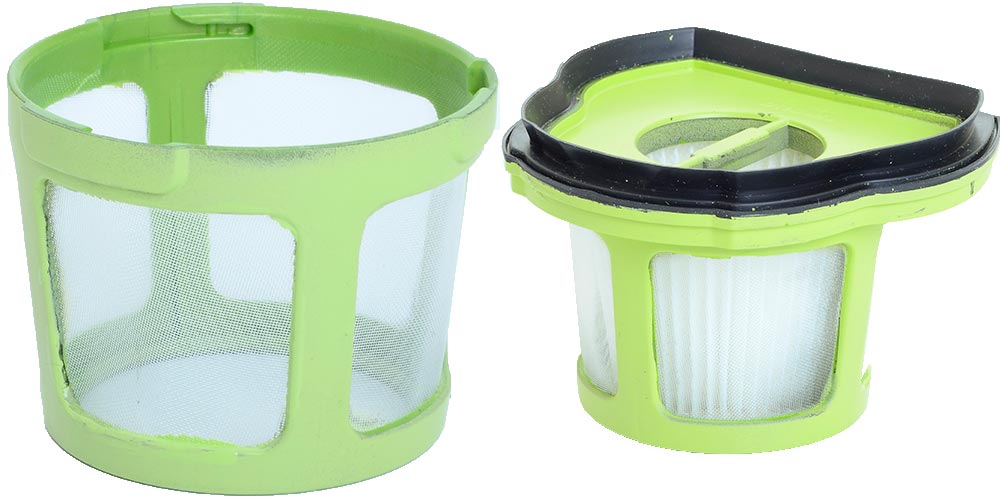 Practical Uses
While this handheld vacuum will not replace your full-sized upright or canister vacuum, it is ideal for sprucing up the upholstery and carpet. It isn't going to clean large areas of the hardwood floors or carpet but is mainly intended for spot cleaning. This model also does not come with any sort of extension or hardwood tool attachment. I would, however, use it on the hardwood floor if you need to clean up cat litter, dog food or bird seed as it is useful for these types of tasks.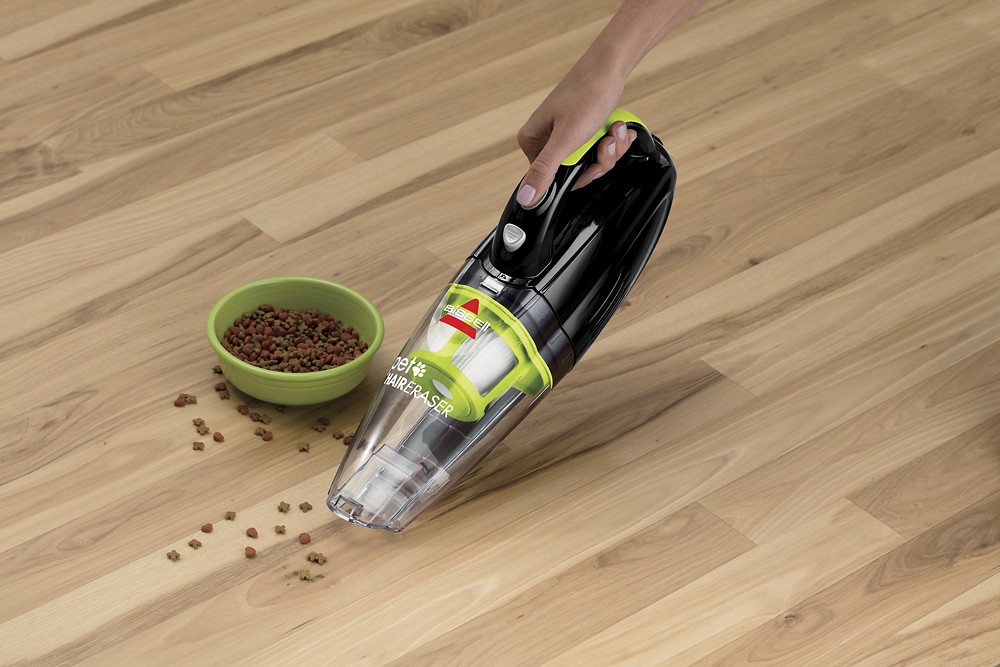 Keep in mind that there are many uses for this besides just pet dirt and hair. In fact, this is the perfect machine when the baby spills his Cheerios. Instead of dragging out the upright vacuum, you can grab this from the charger and clean up in just seconds.
First Use
When you receive this Bissell vacuum, you'll want to start by inserting the charging adapter plug into the back of the unit. Then, be sure to plug the adapter into a working wall outlet. Charge for five hours until you see the red LED light turn off.
When you are ready to use, simply unplug the unit and turn it on. When using any tools, first be sure the unit is powered off. To use the motorized brush, you will simply insert the nozzle into the hand vac until snaps into place. To remove, simply push the button at the top of the motorized brush and slide out.
For use of the other tools, you'll need to be sure the motorized brush is first removed. Then, simply insert the end of the tool you wish to use and power the vacuum on.
Final Thoughts
This lightweight, Bissell Cordless Pet Hair Eraser is perfect if you need a budget friendly hand vacuum. It does a great job using the motorized brush attachment to pull up deeply embedded pet hair and dirt. The other tools are helpful for cleaning up small messes, freshening the beds and vacuuming out the car. Just be sure to keep the unit plugged in when not in use to maximize its battery power.
Bissell, 1782 Pet Hair Eraser Cordless Hand and Car Vacuum specifications
Type

Handheld

Cord type

Cordless

Bag type

Bagless

Height

6.8

inches

Weight

3

pounds

Battery replacement

Yes

Warranty period

1

years

Warranty type

Limited

Length

4.5

inches

Width

16

inches

Brand

Bissell