When searching for the best solutions to cleaning all the pet hair in a home, it makes complete sense to consider using a bagless vacuum. Some pet vacuums require a large monetary investment, but the Bissell Zing Bagless vacuum is available as a lower budget option. The Bissell isn't a low-quality machine, however, and has some spectacular features. From its triple filtration system and cyclonic cleaning action, the Zing has plenty of admirable qualities that make this a viable option for all household cleaning.
Bagless Canister Vacuum
The thing I love most about owning a bagless vacuum is never having to buy a bag ever again. This not only cuts down on the cost of operating a vacuum but makes it much easier to perform my household duties without the care of swapping out bags every time they are full. It is also a better choice for the environment.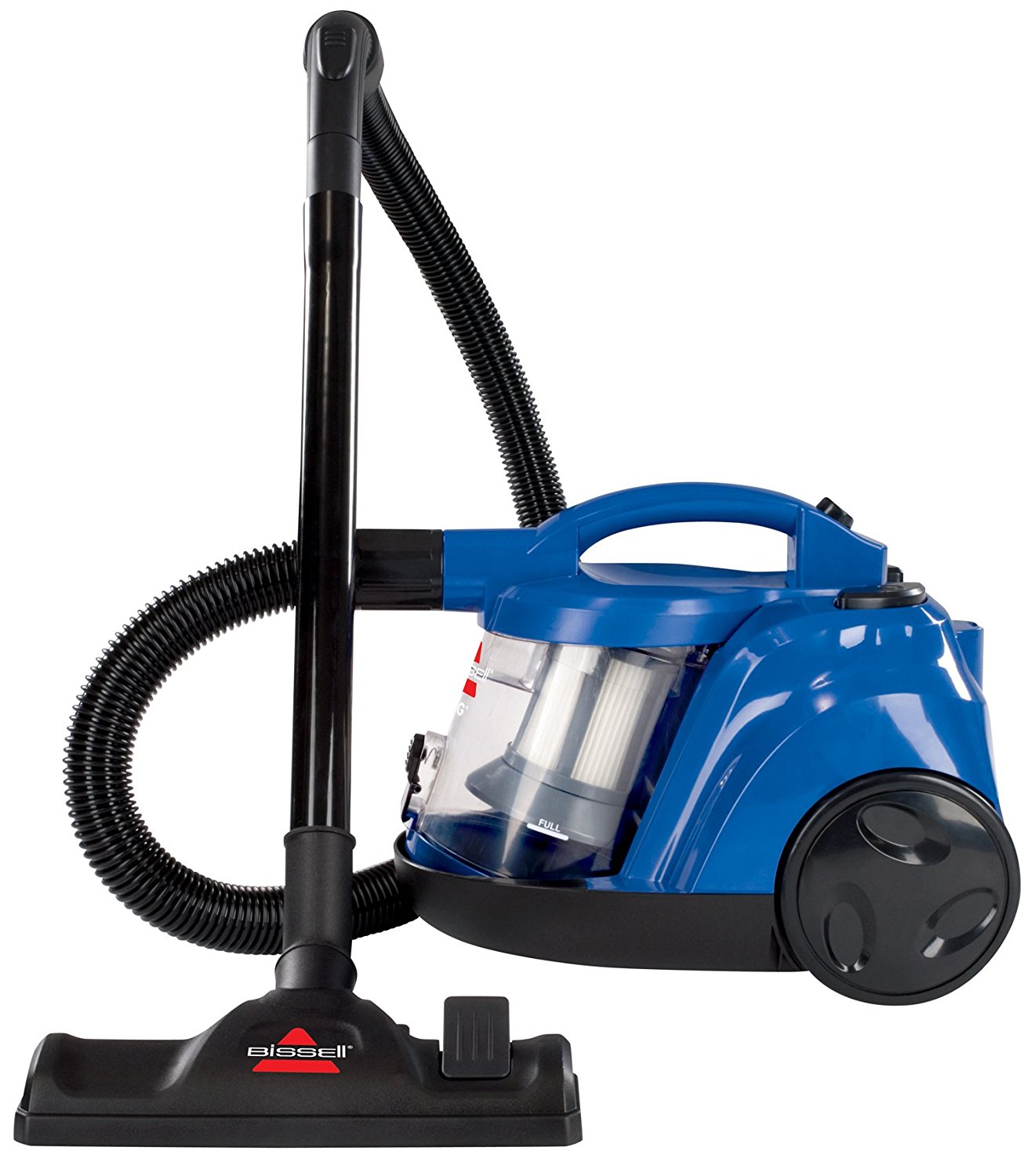 This is a canister model which enables it to operate lower to the ground and features a long hose with attached wand. The canister gets pulled behind as the cleaning gets done instead of being pushed like an upright vacuum. This makes cleaning stairs and other hard to reach places a breeze.
This Bissell model features powerful cyclonic action backed by a powerful suction that gives a deep down clean. This provides a consistent performance one would only expect to see in a higher dollar unit. It is one of the reasons this vacuum continues to be a bestseller.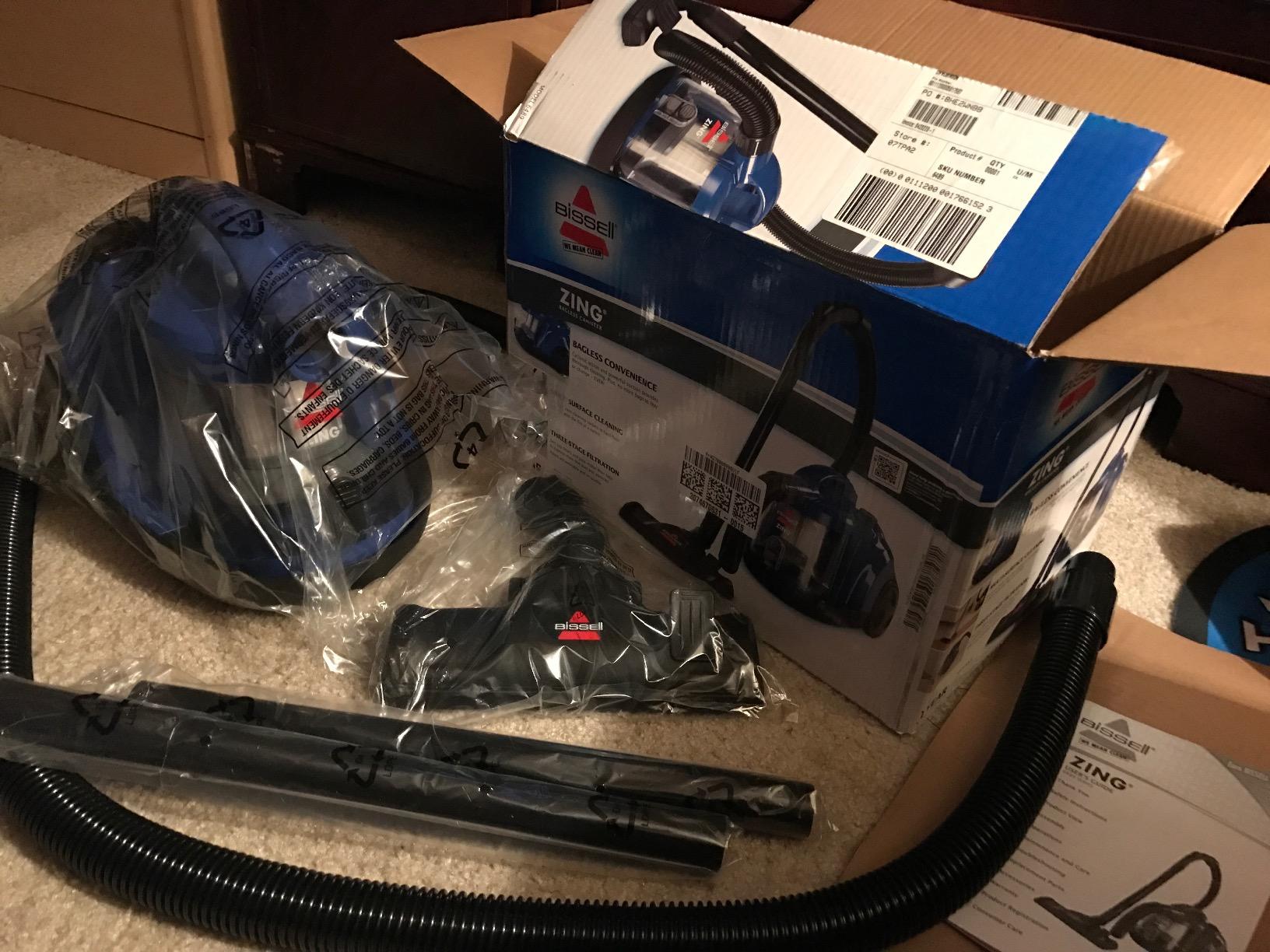 Cleaning Power
This machine is backed by 9 amps of cleaning power and is able to maintain great energy efficiency. In comparison, higher priced models will normally feature 12 amps of power which are slightly higher. It features a 10.1" cleaning path which is a little on the smaller side but not by much. It would be the ideal size for a smaller house, apartment or even dorm room.
The nice thing about this model is that with the flip of a switch on the vacuum head, the machine can go from cleaning carpets directly over to the hard floors.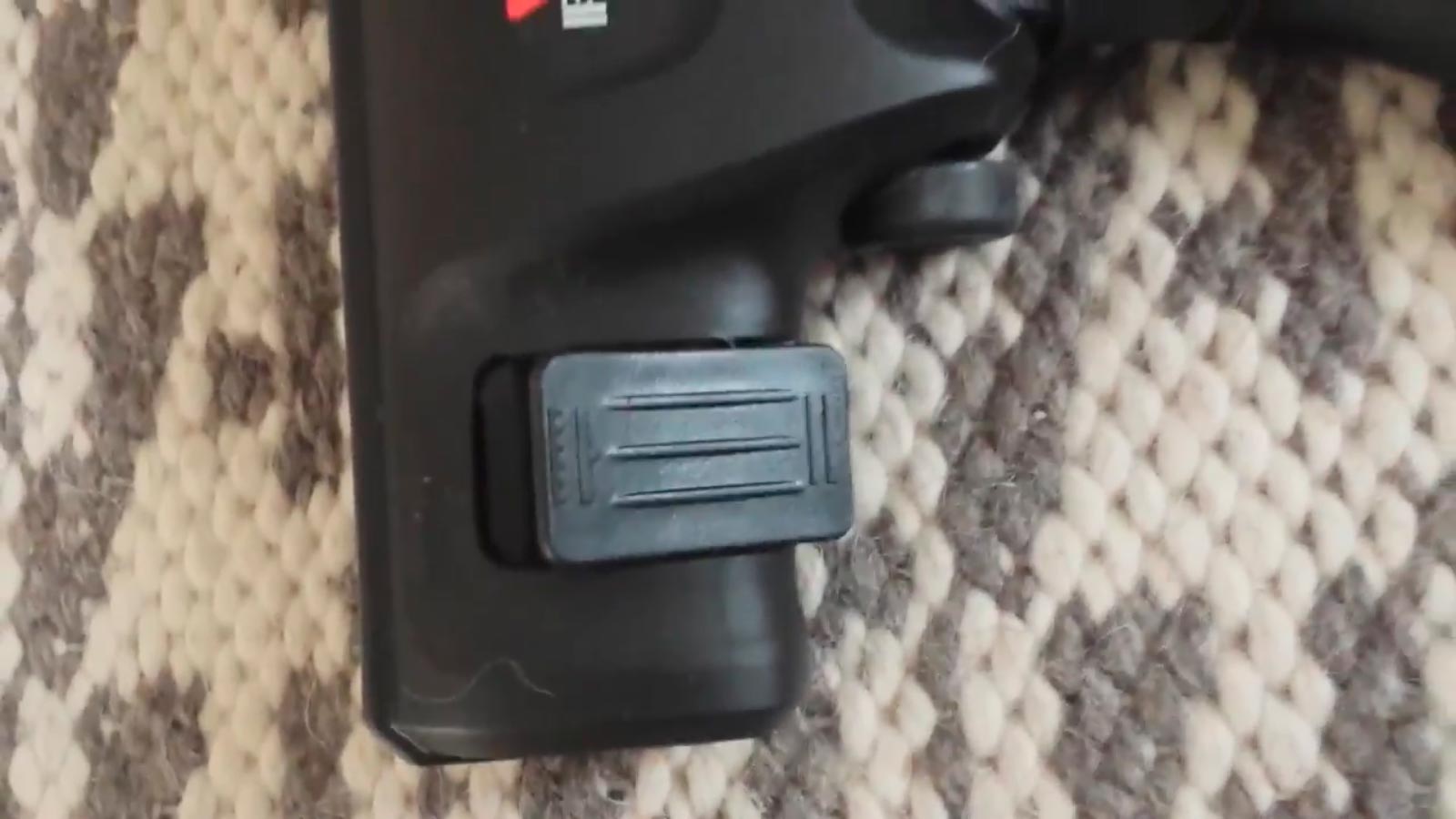 When vacuuming carpets, the brush switch would be placed on the "carpet" setting. This pulls all the brushes up into the floor nozzle, away from the floor surface.

Just as quickly, when switching over to bare floors, the setting would be changed back to "bare floor" position. This returns the brushes down to the floor for optimal cleaning.

The suctioning power is also adjustable. The variable suction control allows for more options while cleaning and is easy to use while cleaning. Simply lower the suctioning power by sliding the regulator down the wand to clean fabrics such as curtains or to remove the pet hair from the bedding.

When returning to the floors, adjust the variable suction to full strength by sliding the regulator back up to the closed position.

In performance tests, this vacuum was superior on the hard surfaces and with smaller particle cleanup. It didn't do as good of a job on carpets, especially if they were thick. For the price of this unit, it certainly holds its own and can still be deemed a great cleaner. Keep in mind that many canister vacuums naturally perform better on bare floors.
This Bissell model does not contain a motorized brush roll, but neither do most canister vacuums, so this wasn't something I expected to see. It is, however, great for cleaning while not having to move all the furniture. The low-profile cleaning head on the machine lies flat which enables users to reach far under furniture, even when space is small.
Special Tools for Cleaning
This canister vacuum, which doubles great as a pet vacuum, comes complete with special tools designed to get even the toughest job done. Using the 2-in-1 Combination Crevice Tool and Dusting Brush, I find that capturing dirt in those hard to reach places can be simple and doesn't require a lot of effort.

It is easy to switch between the two attachments, just flip the tool to the side needed. If the above-floor surfaces like the ceiling fans, exhaust vents and blinds need to be cleaned, it works well to add the crevice tool onto the extension wand that is provided with the unit. At almost 6 foot long, this wand can reach just about anywhere that a little more height is needed.
The extension wand is capable of easily detaching from the canister vacuum itself and from the cleaning head as well. This makes it easy to store and use. This wand is also perfect for drawing the air out of Space Bags or other vacuum bags to create a more compact form of storage.
3-Stage Filtration System
One thing I didn't expect with this lower dollar model was the 3-stage filtration system. It uses two filters in the dirt cup and one post-motor.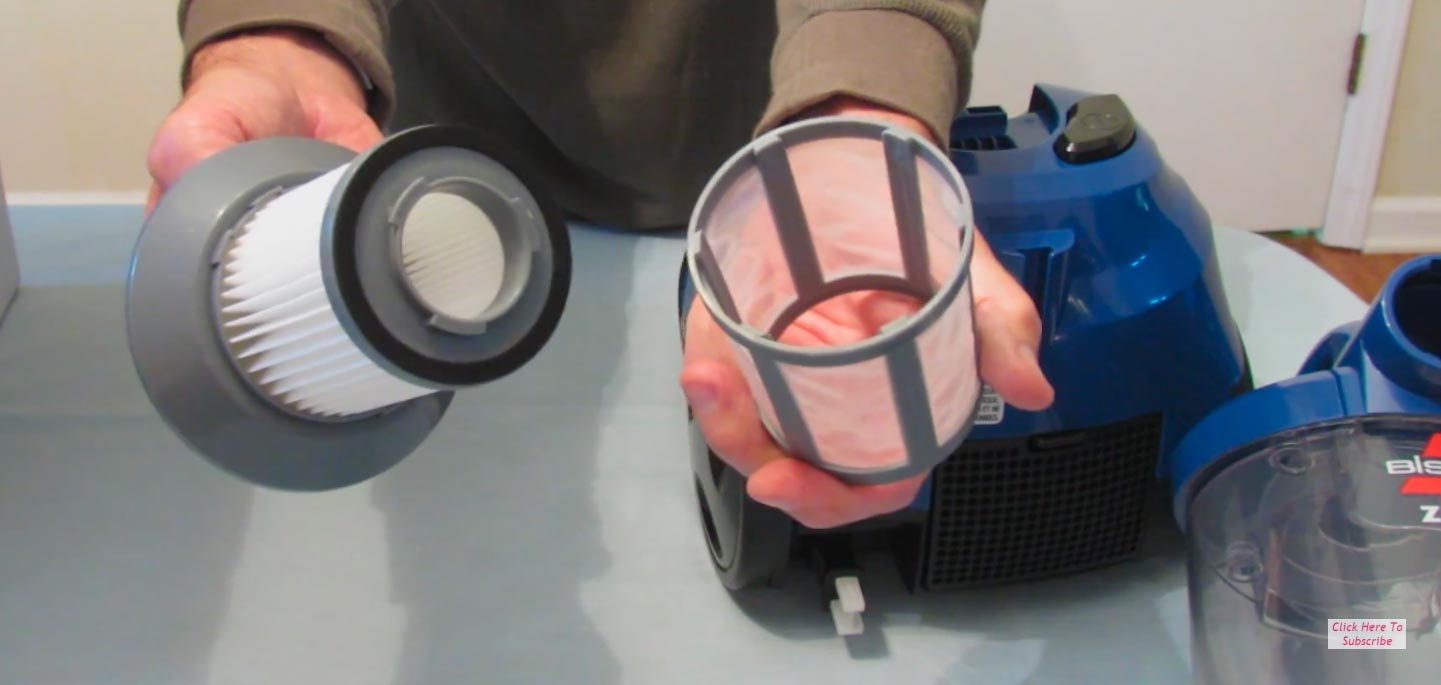 All three of these filters are washable and reusable, simply use some warm water and be sure to air dry before using again. The filters do not contain the true HEPA air filtration used in some other pet vacuums, but it does a great job otherwise. It would be a lot for me to expect to see HEPA technology in a vacuum from this price range.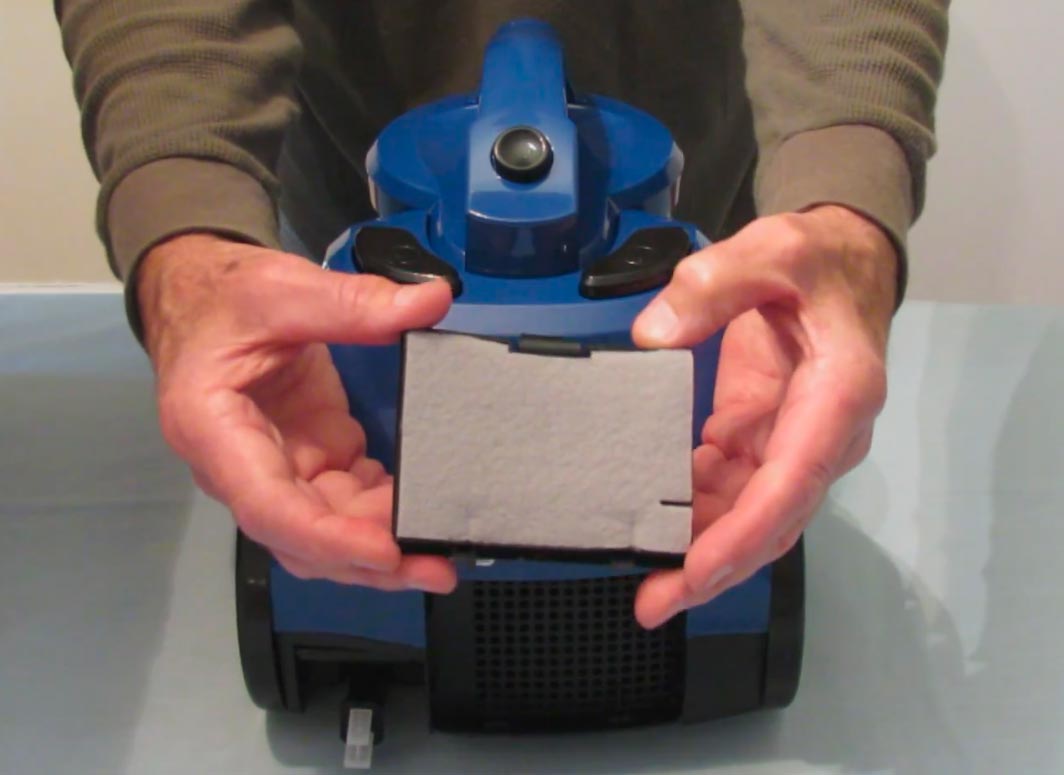 The easy to empty 2-liter dirt cup is made of transparent plastic which will enable users to see how much dirt has accumulated inside the canister. There is even a handy "FULL" line so there is never a question of when it should be emptied.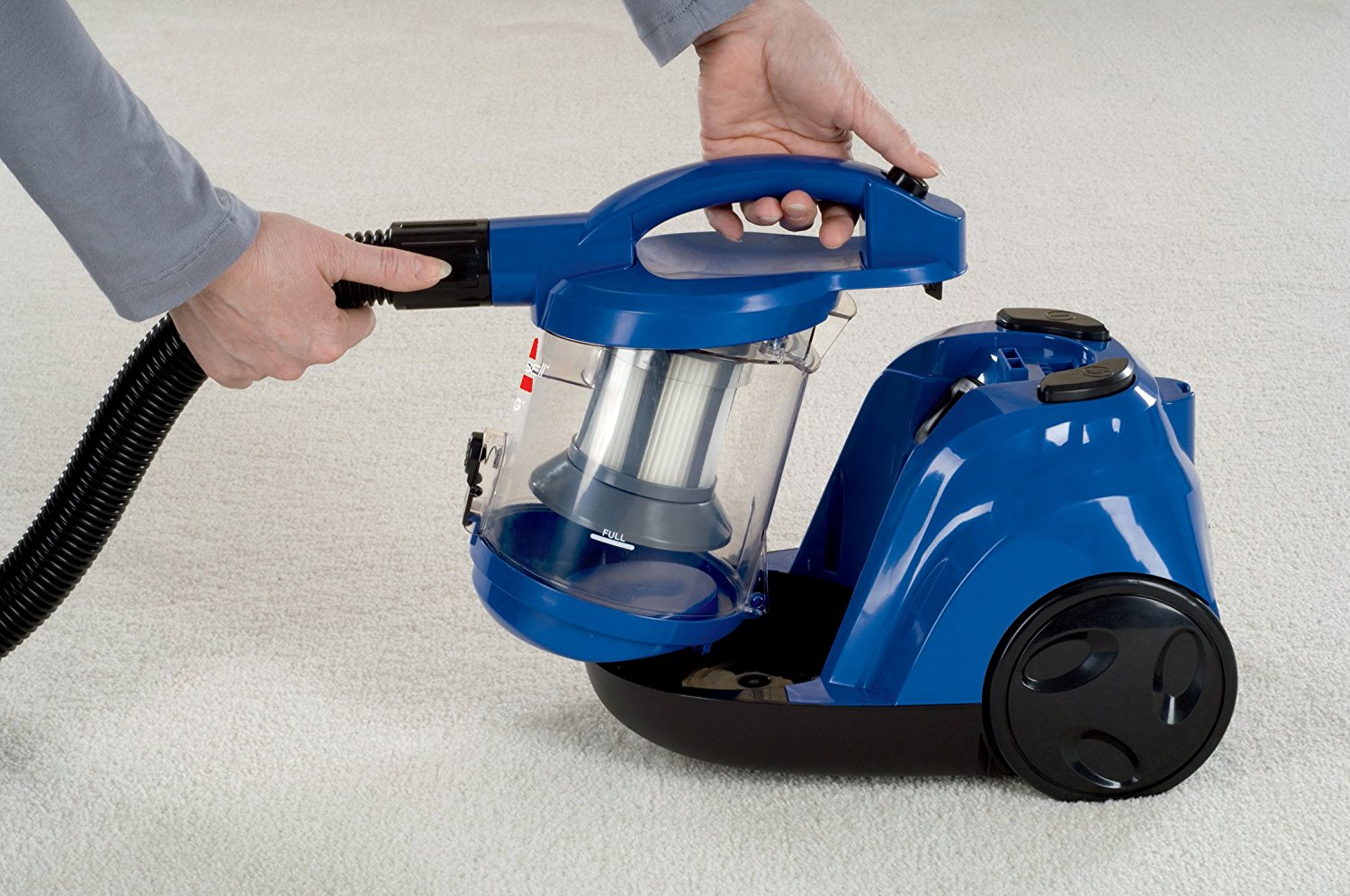 I love that the dirt bin can be held over the trash can while simply pushing a button to empty. It is a no-fuss method of cleaning and there is no mess involved. This means no more digging to get out the dirt and hair from a canister.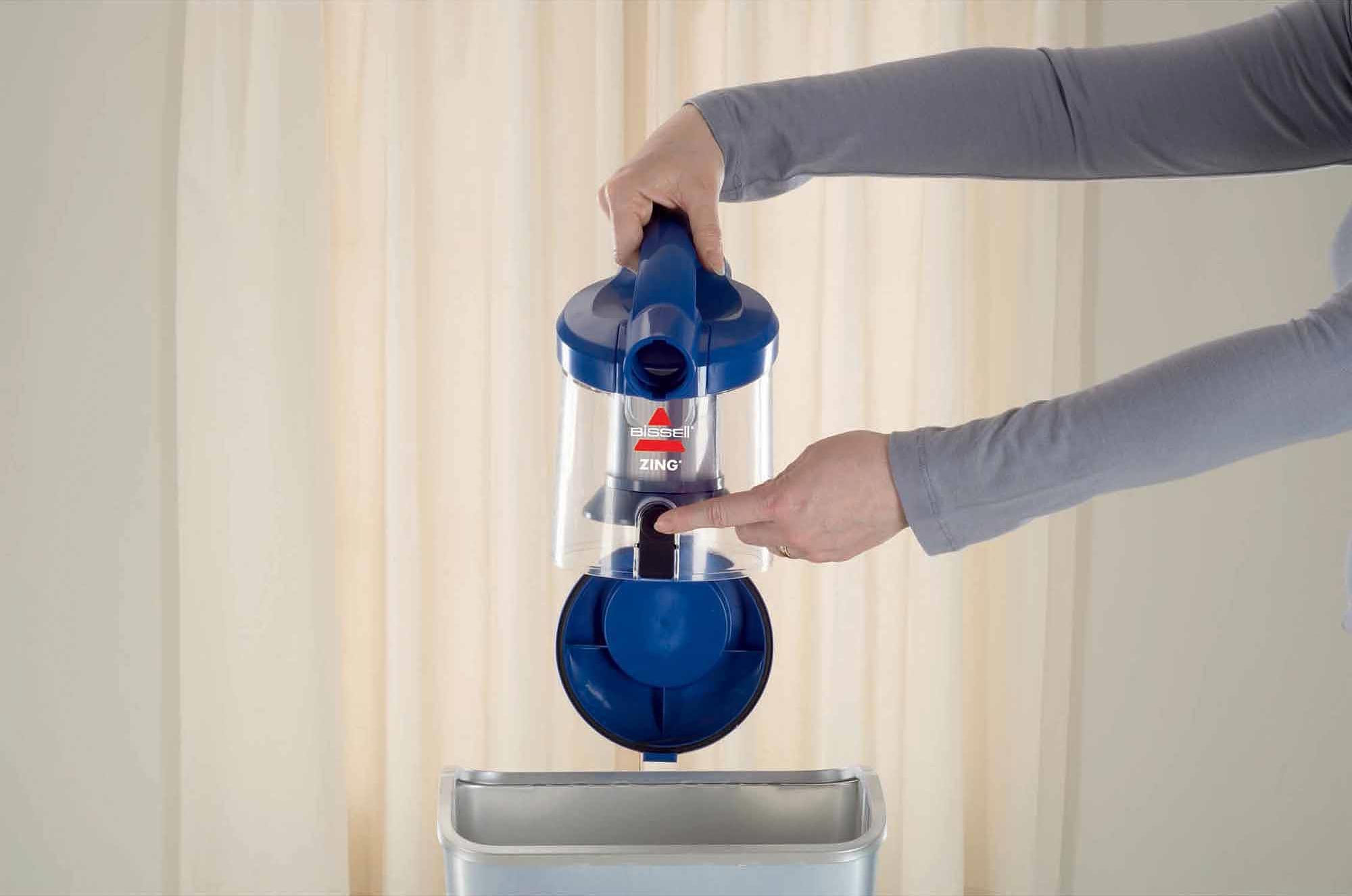 Automatic Cord Rewind
This budget friendly model came with a feature that I found to be quite convenient; the automatic cord rewind. What a piece of cake it is to have the cord reel itself back in after cleaning. Just touch the button and the cord seamlessly gets sucked back into the space inside the machine with no effort from the user.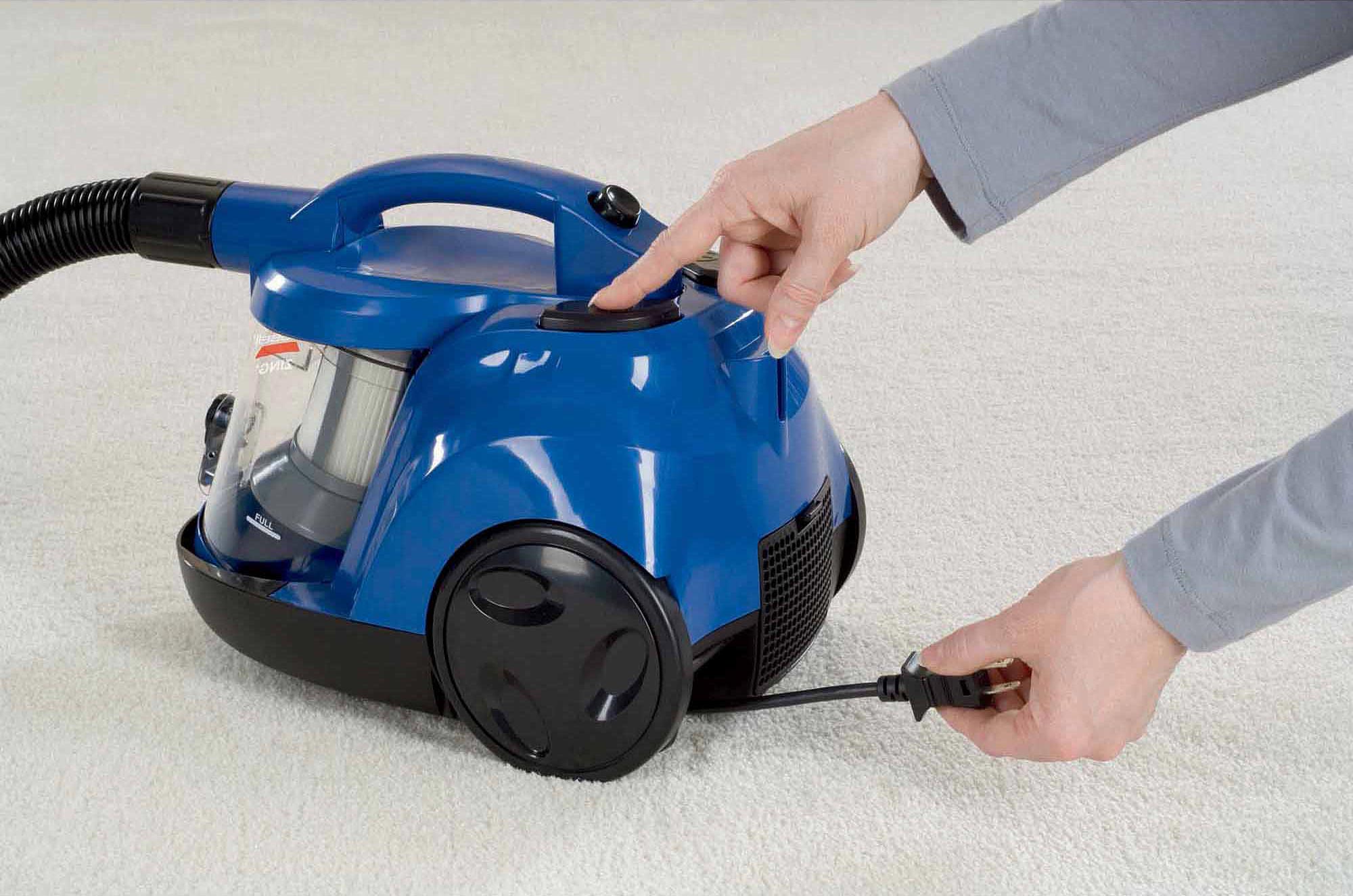 The cord is 15-feet long which seems to be plenty of length if vacuuming a small apartment or small rooms in a house. If doing a larger room, the need to unplug is almost necessary.
Lightweight & Easy to Carry
The Bissell Zing is lightweight at 10 pounds and very easy to carry around the house. It comes complete with a convenient carrying handle making it easy to tote around to different rooms and up the stairs. It is also small enough to sit right on the stairs while cleaning. I find that it is relatively easy to maneuver while cleaning and requires little effort to pull. When in need of a vacuum to clean out the car or motorhome, this is easy to carry outside.
This is the perfect model for getting the kids to help out around the house. I also believe it would be great for an elderly person who is looking for an easy to use and lightweight machine to clean their home.
Designed with durability and quality performance in mind, this Bissell device is the perfect size for storing just about anywhere. It is also easy enough to get out anytime there is a quick mess to clean up. There are no tools necessary to put the bagless vacuum together, making it easy to get cleaning right away.
Other Features
It comes in the Caribbean Blue color which is bright, fun, and vibrant. It also features an easy on/off button that anyone in the family can operate. There is a limited 1-year warranty for peace of mind and is backed by the reputable Bissell name.
When the cleaning jobs are over, the vacuum head easily attaches in the storage slot on the back of the canister. Simply insert the storage clip found on the vacuum itself.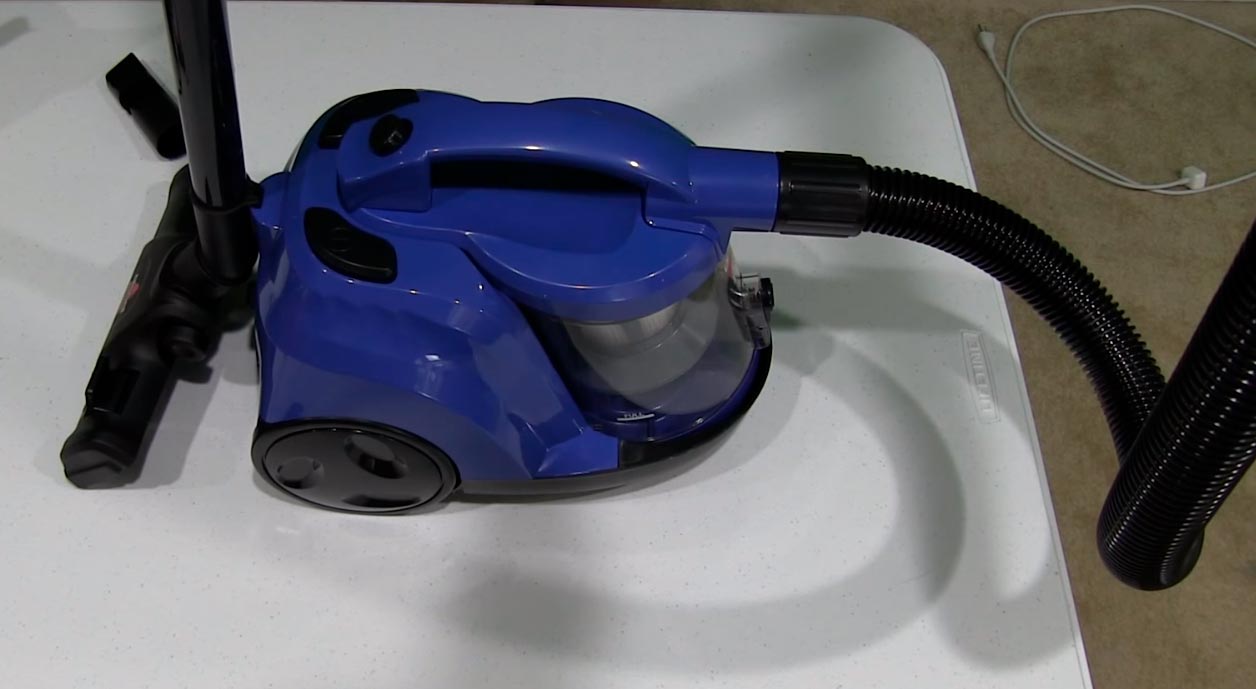 Verdict
When searching through budget friendly vacuums, it is natural to think we have to give up features that would be found on a more expensive machine. I found that wasn't necessarily the case with this canister vacuum as it comes complete with the cyclonic power, automatic cord rewind feature and even the three filters. While it does lack some functions of a more expensive model like the HEPA filtration, the options it does contain can't be found on all models, especially in this price range. In my opinion, this vacuum is a winner for anyone looking to clean well while maintaining a budget.
Bissell Zing 6489 specifications
Type

Canister

Bag type

Bagless

Cord length

15

feet

Cord rewind

Yes

Filtration Efficiency

Ordinary

Cyclonic

Cyclonic

Input power

1080

watts

Height

11.8

inches

Weight

10

pounds

Dustbin capacity

2

liters

Hose length

4.6

feet

Warranty period

1

years

Warranty type

Limited

Cleaning path

10.1

inches

Suction release

Yes

Length

16.3

inches

Width

10.9

inches

Brand

Bissell