You love your pets, but if you're anything like me, you don't love the pet hair that comes with them. When you are looking for a new pet vacuum to clean all the hair and dirt that come from your furry friends, this Bissell might be a good option to check out.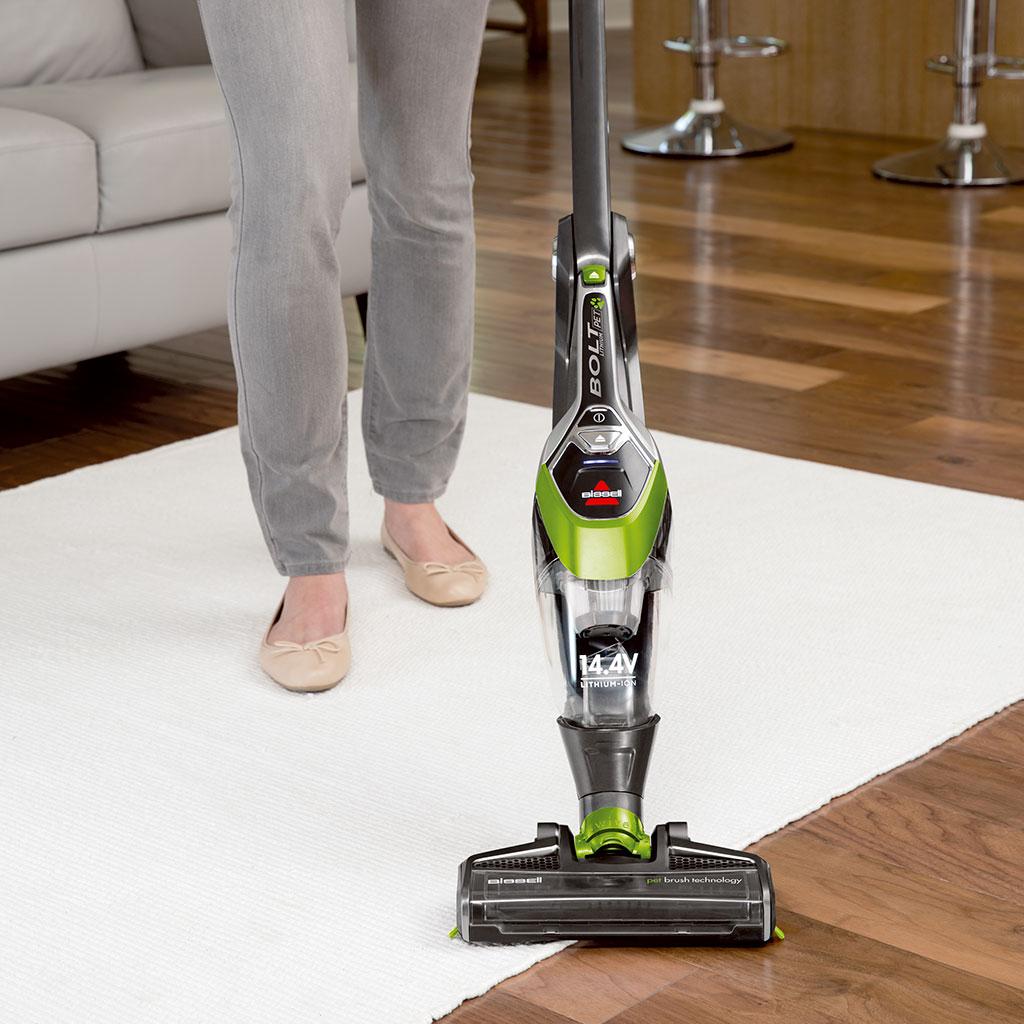 Main Features
In comparison to other cordless pet vacuums, I was surprised to see such a reasonable price tag on this model. My first impression caused me to wonder if it really would work for my needs or if I was going to need a more expensive vacuum.
With its 2-in-1 design, this bagless machine is like buying a powerful stick vacuum and removable hand vacuum all in one. It also comes complete with tools designed to clean up after the pets. You can use these on the carpets, area rugs, hard floors, and the above floor surfaces. When it's not in use, simply attach it to the base for a rapid recharge and easy storage.
This vacuum is cordless and it is a pleasure to not stumble over cords while vacuuming, but what is it powered by you might wonder. The 14.4V Lithium Ion Battery of course. These batteries are very light which is why this vacuum is so incredibly lightweight at just under 6 pounds. Most stick vacuums weigh in under 10 pounds, but the power behind this was far greater than most models.
They also feature longer run times than other batteries. For example, this vacuum can work at full-force for up to 25 minutes depending what surface it's being used on. As the battery wears down, the power doesn't budge. There is no more racing to get the vacuuming done while you are losing suctioning power; it just doesn't happen with this model.
Removable Hand Vacuum
One of the other features I've come to be impressed with is the option to turn this into a removable hand vacuum with very little effort. Sometimes, I've found that vacuums which double as a handheld unit as well can be difficult to remove. That's not the case with this model. It features a hand-held vacuum release button that makes it easy to get cleaning. This handheld is great for after the pets have been in the car with you. Just a quick cleaning and the car looks as good as new.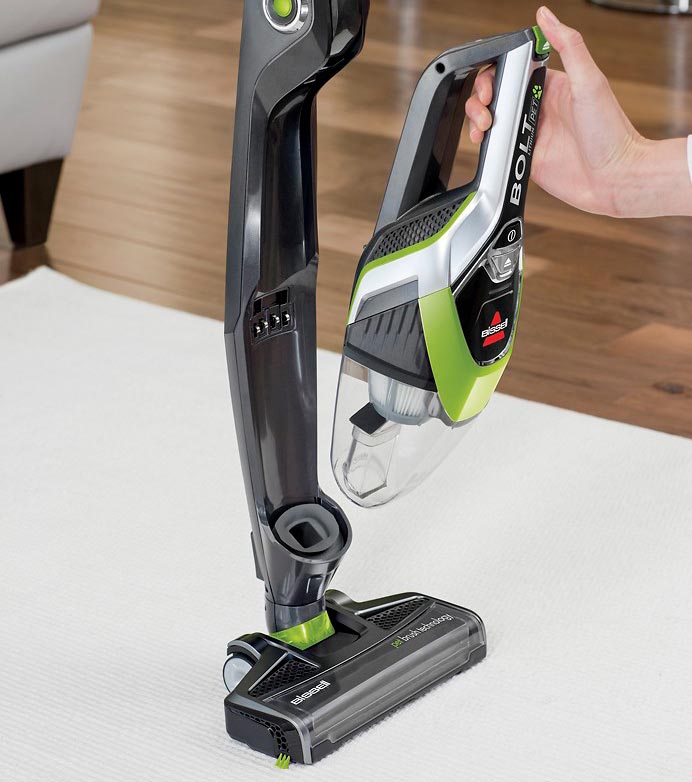 Specialized Tools
The tools are what really seem to set this vacuum apart from the rest. The Advanced Pet Hair Brush Rolls are rubberized, enabling easier hair pickup. It also cleans dirt from the hardwood floors and carpeted areas seamlessly, making it a great option for people like me with multiple surfaces in the home.
The Pet Hair Nozzle Tool is perfect for lifting embedded hair, dust and even dander off the furniture. It's also a great option to use on the stairs and in the car with the handheld function.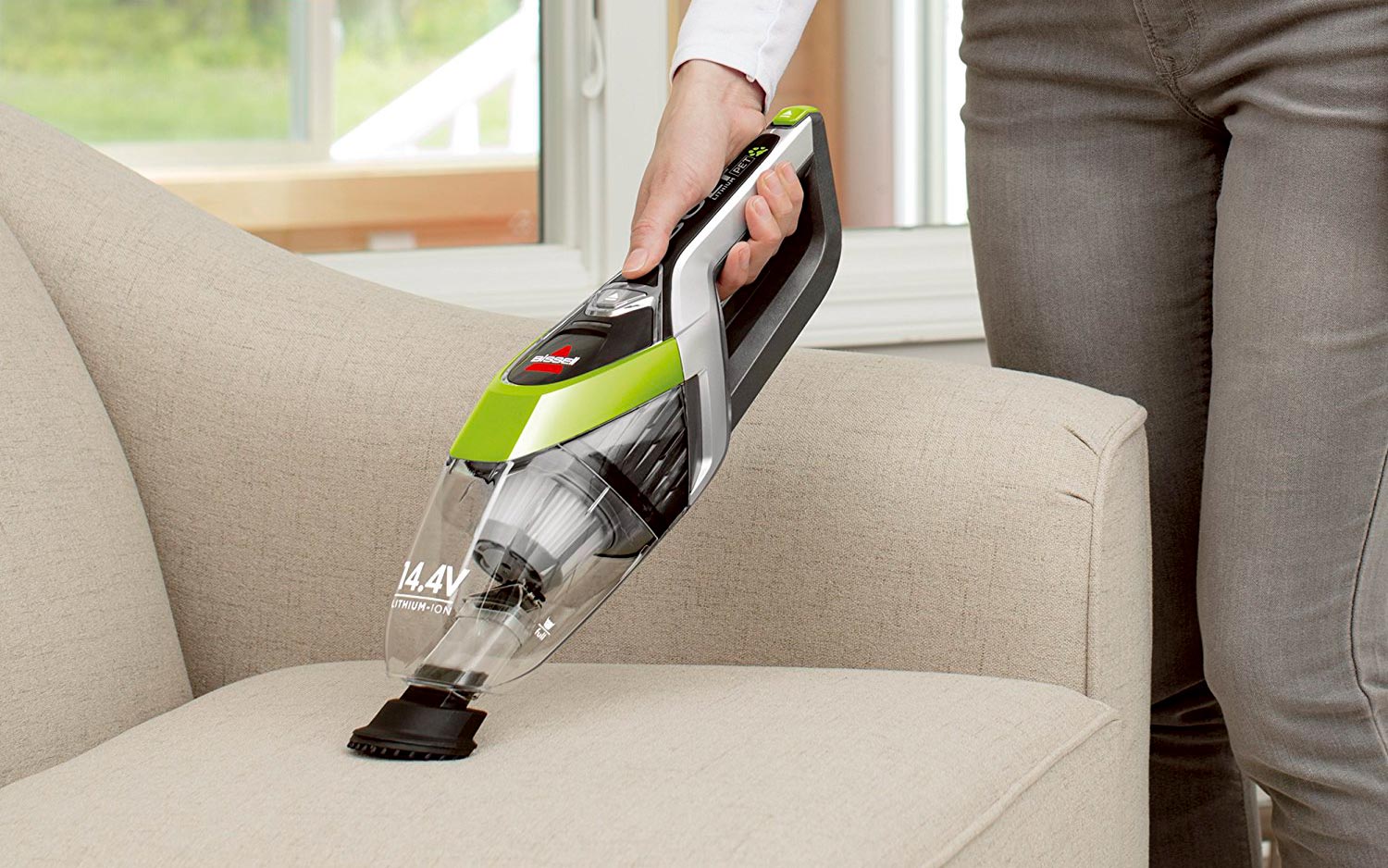 The Crevice Tool with Dusting Brush is an absolute lifesaver when trying to vacuum that pet hair out of the corners and hard to reach spots of the house or car.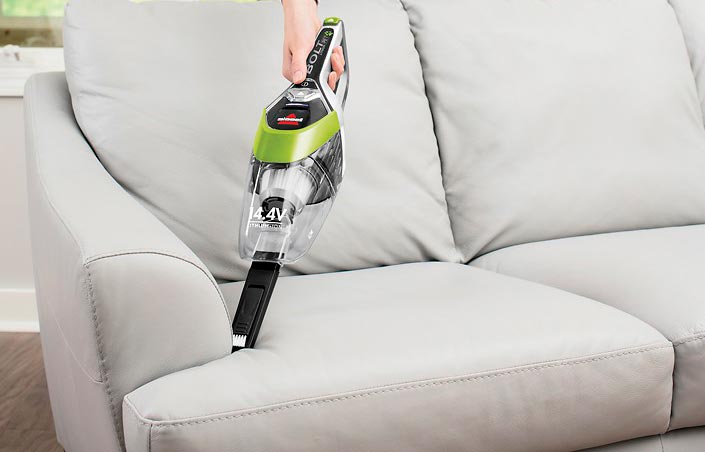 If you've ever struggled with the pet food spills or the piles of cat litter that gets dumped on the floor, you'll love the Scoop and Sweep Tool this vacuum offers. You can clean that large mess with very little effort. It's like having an attached dustpan and brush with you at all times.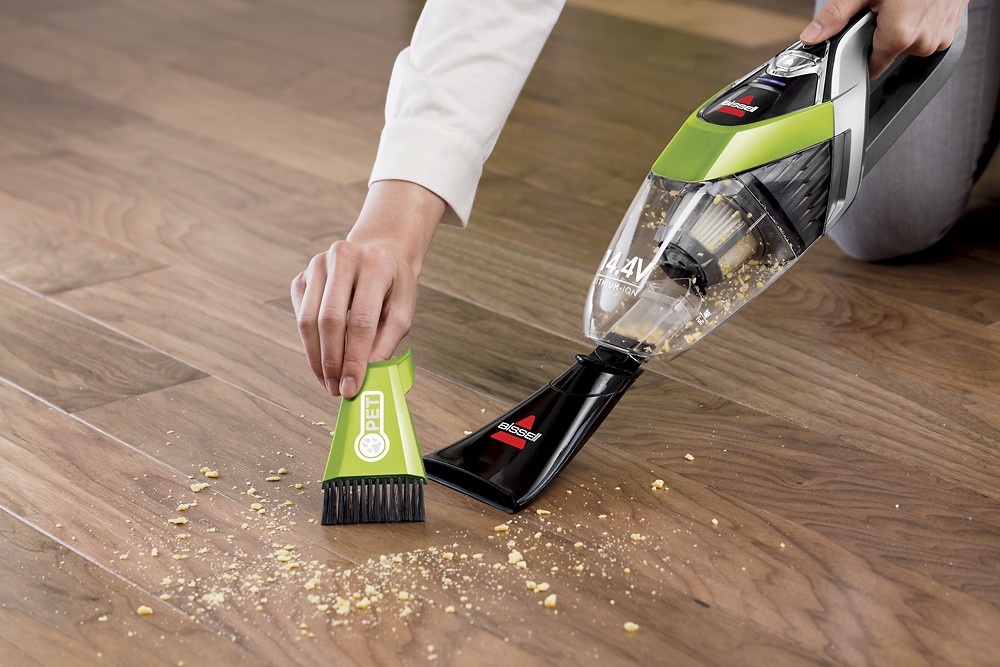 While I've seen vacuums with their own set of unique tools, I have to admit, these four are just what is needed to get the job done.
Cleaning out the Dirt
Let's be honest, we've all used those vacuums that are a nightmare when it comes time to emptying and dumping out the dirt. I've used vacuums that needed to be emptied in the middle of vacuuming because they didn't hold enough dirt. Not with this model. The extra-large dirt bin holds much more debris that other styles and so you have less time emptying in the first place.
On top of that, you'll find that the filters are easy to clean. With clean-turn filtration technology, you simply twist the filter and voila, it's clean.
Storage
The one thing I don't want my vacuum to do is to take up more space, the pets do enough of that. So I was surprised to see how easy this model is to store. All the tools that come with the unit and the vacuum rest nicely in the included and convenient charging base. Simply place it in there when you are finished and let the battery charge up. It is the perfect size to tuck away in the corner of a room or even in a nearby closet.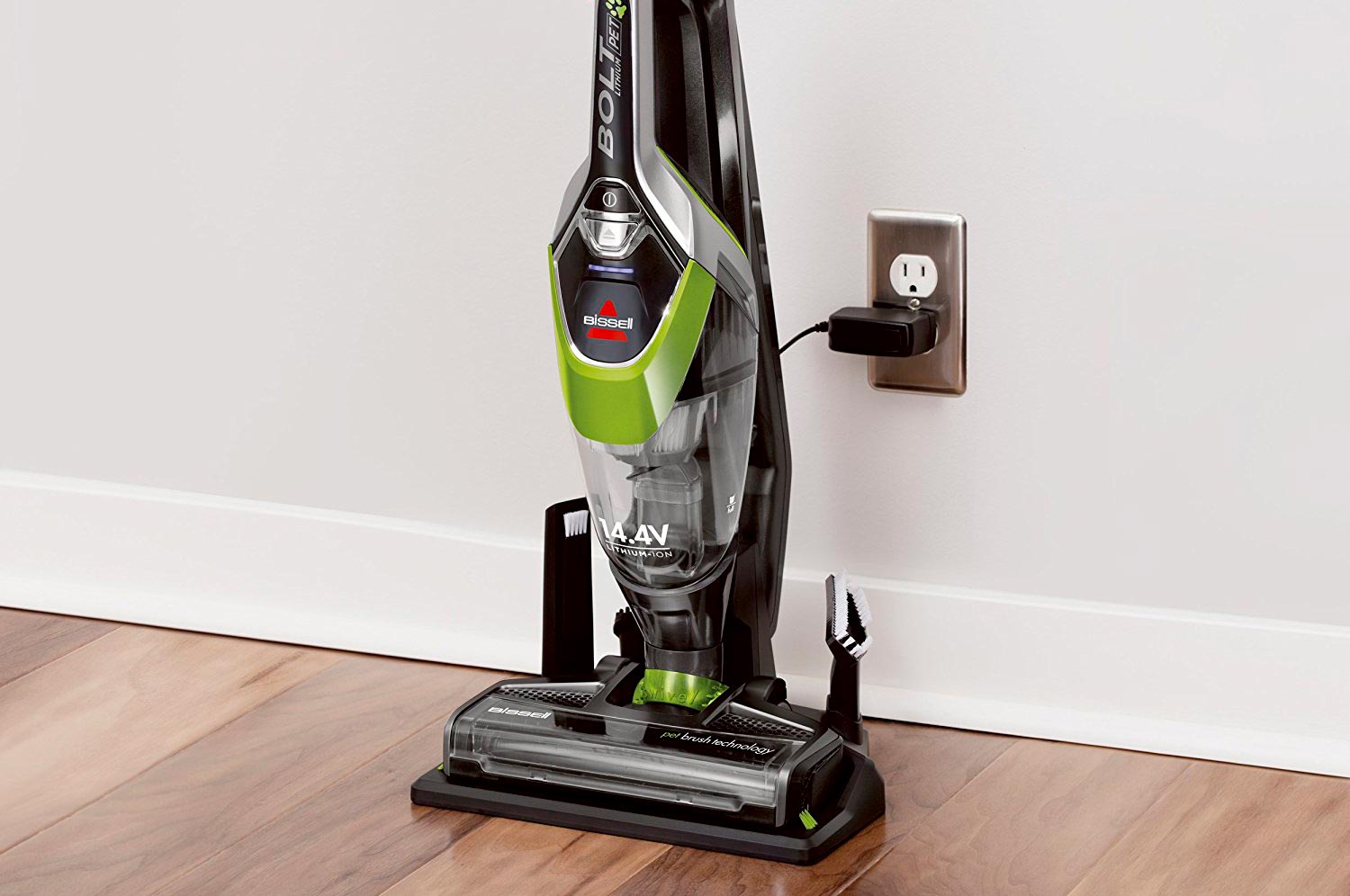 2-Way Handle
The handle also features the ability to fold making it a nice function for cleaning under tables and furniture. Simply bend your handle forward or backward which is a fabulous feature making cleaning a breeze. There is no longer a need to move furniture around when vacuuming. I am considering giving this vacuum to a family member in a wheelchair just because of this function alone.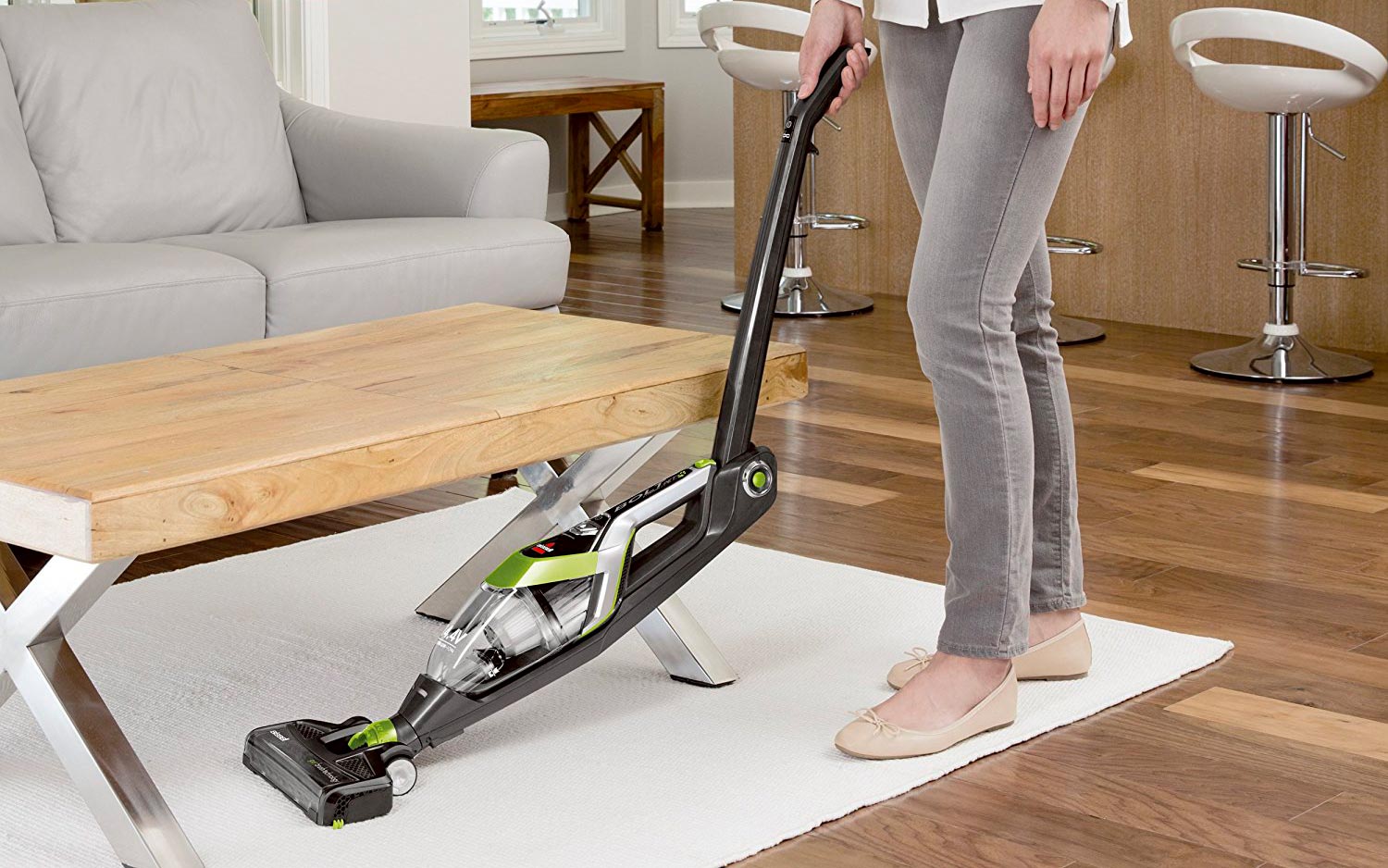 Getting Started with This Model
If you are anything like I am, you want to start using your vacuum as soon as it arrives at the door. This model makes that easy. Start by plugging in the charging adapter to the base. You can hide the extra cord right in the base if you wrap it around. As with all power cords, you'll then plug that adapter into the wall outlet.
Your next step will be to simply insert the body of the vacuum into the base. Place your new BOLT onto the charging base and give it some time to charge. When the LED light is a solid blue color for at least 10 minutes and then begins flashing once per minute, your system is charged and ready to go.
Keep in mind that it can take up to 4 hours to charge this vacuum, so a little patience might be in order. If you always keep your vacuum on the base while not in use, then you can expect to come back to a charged BOL T whenever you need it.
If you, however, don't regularly charge the unit, you might find that the LED lights start to rapidly blink red. That means you have no choice but to charge it before more use.
Suction Concerns
There might be times when you experience a lack of suction while vacuuming. This is generally a simple remedy and can be dealt with following a couple tips.
1 – Check to make sure the canister isn't full. If so, simply empty the canister in the trash can to move on. You may also want to ensure that the filter isn't clogged.
2 – Pull out your hand vac and ensure that there are no clogs. If you find some, remove them and replace the hand vacuum back to the main unit. Now, flip the unit over and inspect the opening there as well. If you need to, you can slide the tab down to the unlock position and lift off the corner cover. From there, you should be able to remove the brush roll and clear it of any debris you might find. You can also check the foot hose to see if there is a clog holding back your suction.
Filter Concerns
While the filter is easy to regularly clean, there are going to be times when it needs a little extra attention. Removing the filter and gently cleaning with soap and water generally does the trick. Just be sure to let it air dry after the washing.
If you find that the washing is no longer working to clean it properly, you can purchase replacement filters to give you that like-new vacuum once again. I still find that this option is far better than using a vacuum with a bag that has to constantly be replaced or with another bagless model that comes with a much smaller canister.
Conclusion
All-in-all the features of this vacuum are what make it unique from the other products currently on the market. From the 2-way folding handle for easier maneuverability to the 4 attachments for easier cleaning, I was pleasantly surprised to find that all my needs could be met with this one machine. What made it even a better choice for me was the ability to unhook from the main unit to make for a portable vacuum that can reach harder to clean areas like the car. This Bissell 1954 Bolt Lithium Ion Pet easily cleans the toughest of pet messes and stores in small spaces making this an overall great option for anyone who owns pets.
Bissell Bolt Pet Lithium Ion Cordless Stick Vacuum, 1954, Green specifications
Type

Stick

Cord type

Cordless

Bag type

Bagless

Roller brush

Motorized

Height

44

inches

Weight

5.8

pounds

Battery replacement

Yes

Warranty period

2

years

Warranty type

Limited

Length

6

inches

Width

10

inches

Brand

Bissell