Dyson Cyclone V10 Absolute is a stupendously powerful cordless vacuum with cleaning performance compared to decent mains-powered models. In Max mode, it does deep-down carpet cleaning. It effectively cleans floors, stairs, furniture, and ceilings, and you can take it out to clean your car. It lacks longer battery runtime in Max mode and there is no option to swap the battery, but you should be vacuuming much faster in general since you're not lugging a cord around. It can fully replace a mains-powered vacuum cleaner, and is much lighter, and much more portable.
Pros
Strong fadeless suction, comparable with corded models
Large dustbin
Washable HEPA filter needs no replacement
Transforms to handheld
Battery life of up to 15 years
Nice assortment of effective attachments
Cons
Not possible to lock the trigger in "on" position. The button must be pushed and held to run the vacuum
Short battery runtime on max power settings
Hard to press "shoot" lever to empty dustbin
Dirt can stick in dustbin
Design
Dyson Cyclone V10 Absolute is a cordless stick vacuum with "extended handheld" design.

It consists of a handheld unit, where the fan motor, cyclone chambers, dustbin and battery are housed, extension wand, and a variety of motorized and non-motorized cleaning tools. The V10 can be used as a handheld vacuum. All the tools can be attached directly to the handheld unit without the extension wand, for convenient cleaning of furniture, stairs, and car upholstery, making it a versatile 2-in-1 solution.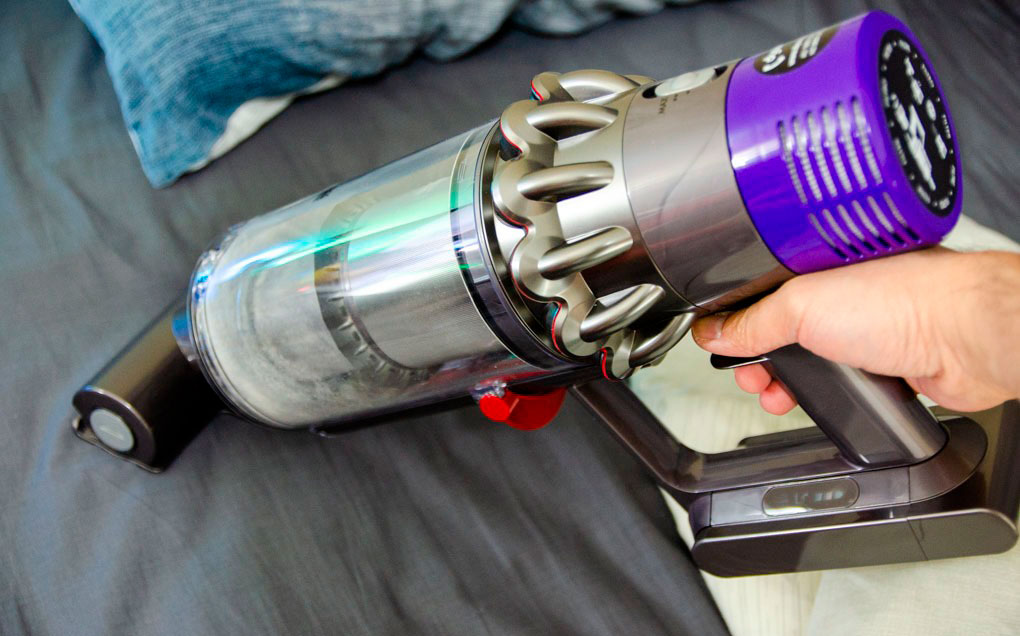 The fan, cyclone chambers, dustbin and suction port are arranged in a straight line, which, according to Dyson, creates a linear airflow path and improves suction efficiency compared to the previous Dyson model, the V8.
The motor fan is located in the rear and covered with a blue cap with exhaust holes to the left and right sides.
On the top of the vacuum, there is a power mode switch.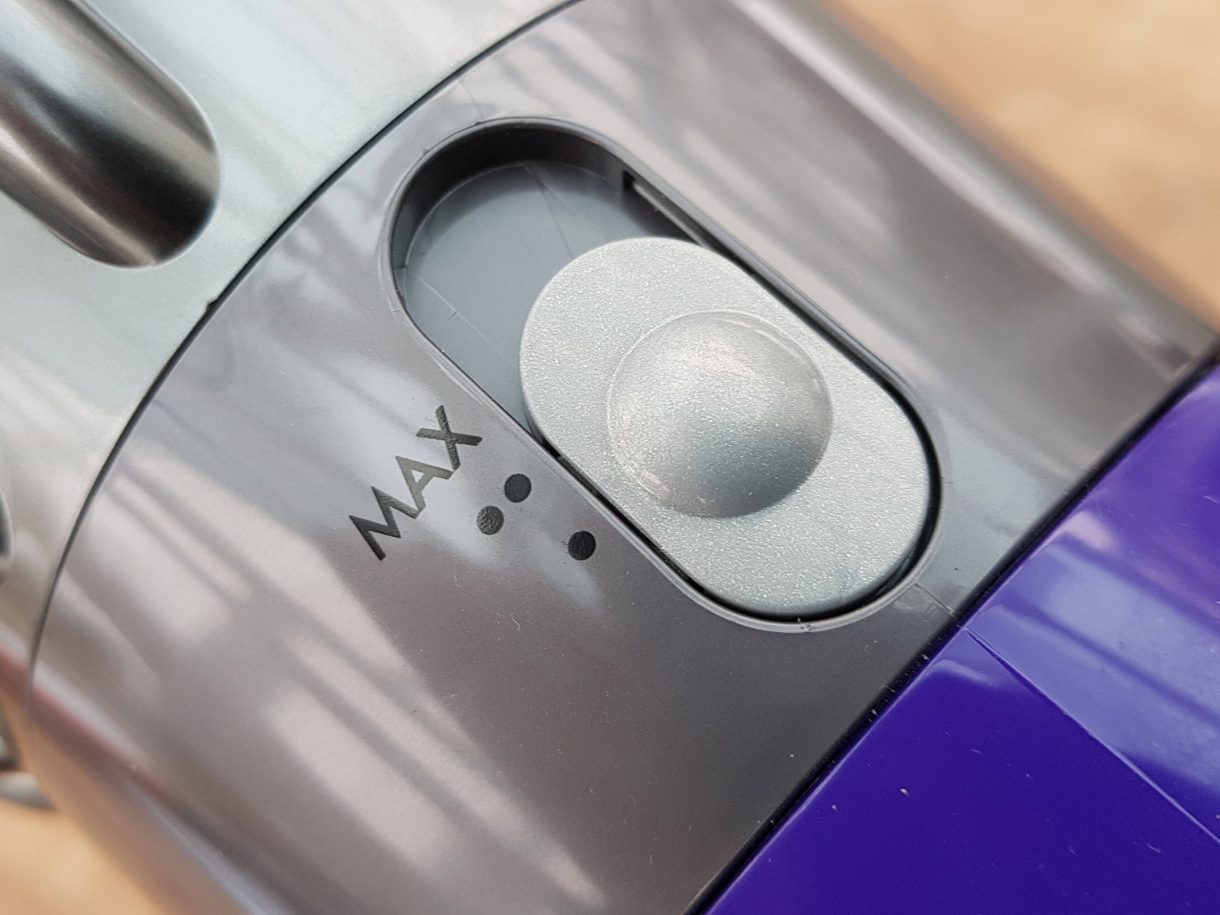 Under the dustbin, there is a red lever to empty it and a red pistol-style trigger which runs the vacuum.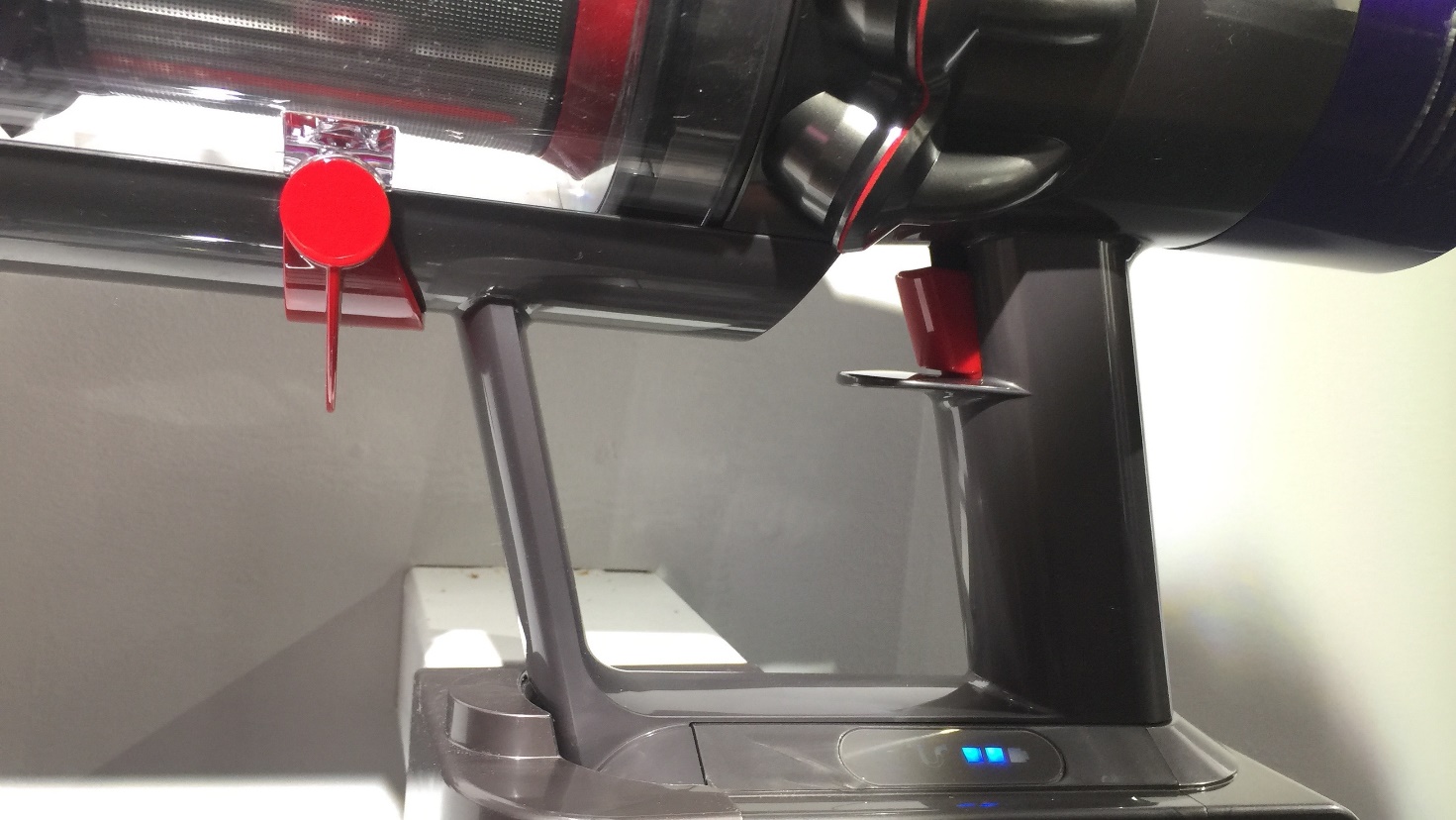 Under the grip there is a battery with charge level, blockage and filter indicators on either side.
In stick mode with torque drive cleaner head, the vacuum is 49.2" high and weighs 5.9 pounds.
The handheld unit is 9.5 inches high, 14.25 inches long and 6 inches wide. With the mini motorized tool, it weighs 3.4 pounds.
The vacuum is not the lightest among either stick or handheld models, but still pretty lightweight, especially if you take into account its powerful suction and large dustbin.
Cleaning Power
Suction power
Thanks to its new lightweight yet powerful digital motor with a ceramic shaft instead of steel and redesigned impeller for improved airflow, the Dyson Cyclone V10 sucks big time.
The new motor weighs only 0.27 pounds and can spin up to 125,000 rpm. Dyson says the V10 factors in altitude, barometric pressure, and temperature to adjust the motor and maintain maximum performance. It is said to sense the difference when you're cleaning upstairs or down, and even when you're vacuuming the floor or a counter top.
In addition, the cyclone assembly and dustbin moved into a linear format. Dyson claims that because of this, the airflow is straight through (this is not the case in the V6/V7/V8). This linear airflow path is said to significantly increase suction at the cleaner head compared to the previous model, the V8.
Suction modes
The vacuum has three suction modes: 1 (low), 2 (normal) and Max.
In Max mode the suction is impressive, nearly as strong as convenient corded models provide, but this one is cordless! It picks up even really stubborn dirt trapped deep in your carpet or rug.
Unfortunately, the maximum power mode not only effectively cleans your home, but also effectively drains the battery, so it runs low very quickly. Here is what Dyson support says about this:
The MAX suction mode will provide about 6 minutes of run time and is only intended for use with tough cleaning jobs. Please keep in mind that the suction control slider at the cleaner head, along with the motorized brush bar and 3 suction modes ensures that Dyson Cyclone V10 can provide great power for general cleaning, without the need for the MAX mode.
The irony here is that Dyson put so much effort into researching and engineering to create this cutting edge motor, and without any doubt has done a great job creating such powerful suction in such a small size, but still recommends to use their masterpiece in lower power modes most of the time. Therefore, mostly customers will run the V10 at a power totally achievable before V10 and won't fully use its suction power.
Even though you can't use Max mode all the time, it's very useful for cleaning pet hair and cat litter from high carpets. Actually, sometimes it can be even too much suction, as it makes it harder to push/pull the vacuum.
Suction mode 2 (medium) provides enough suction power for most cleaning tasks and gives you 25 minutes runtime with a motorized tool, which is enough to clean an average home. In this mode, V10 effectively cleans medium carpets of all types of dirt. If you don't have high carpets or extremely high-shedding dogs, maybe you won't bother using the Max mode at all.
Suction mode 1 (low) gives you 40 minutes runtime with the motorized tool and the suction allows for cleaning hard floors, low-pile carpets, and furniture. Even in the low suction mode, V10 does a great job thanks to motorized tools, which effectively agitate dirt. Suction is used primarily to transfer the dirt to the bin. However, some particles may be flicked in front of the head in low mode. In such a case it's better to switch to suction mode 2.
Attachments
Dyson Cyclone V10 Absolute comes with a set of attachments for all possible cleaning tasks. Each tool can be attached either to the vacuum itself (handheld mode) or to the extension wand (stick mode) and has a red release button.
Torque Drive Cleaner Head
The main brush, torque drive cleaner head, has a 9.8-inch wide brushroll with dual stiffness carbon and nylon bristles, which agitate different sizes of dirt particles on both carpets and hard floors. With a coin-turn clip on the side, this brushroll can be fully removed from the cleaner head for cleaning.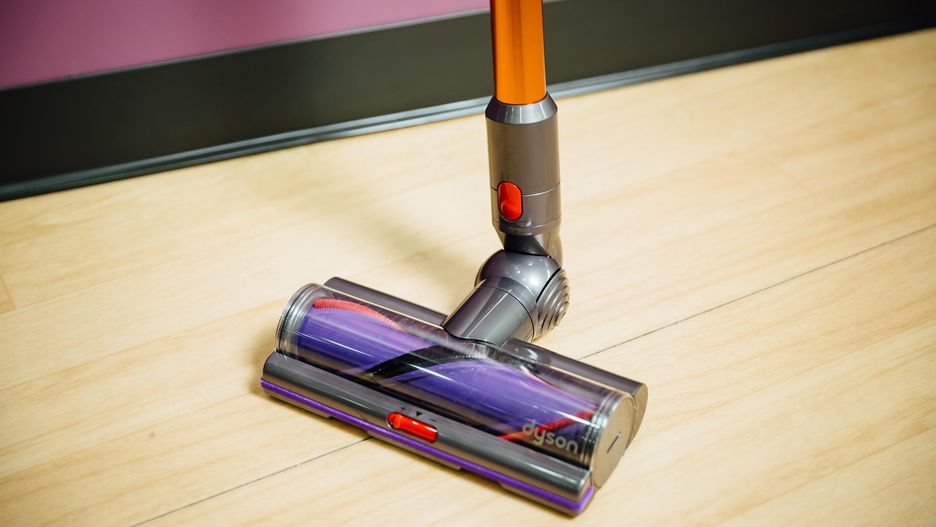 There are also adjustable gaps in the front of the cleaner head. With the red lever, you can open or close them to varying degrees. When they are open, the cleaner head is able to pull in larger debris, and when they are closed, it maximizes suction. Opening gaps are very useful when vacuuming cat litter or cheerios on a hard floor. When the gaps are closed, the head is just pushing the items forward, while opening the gaps allows the machine to easily suck them in.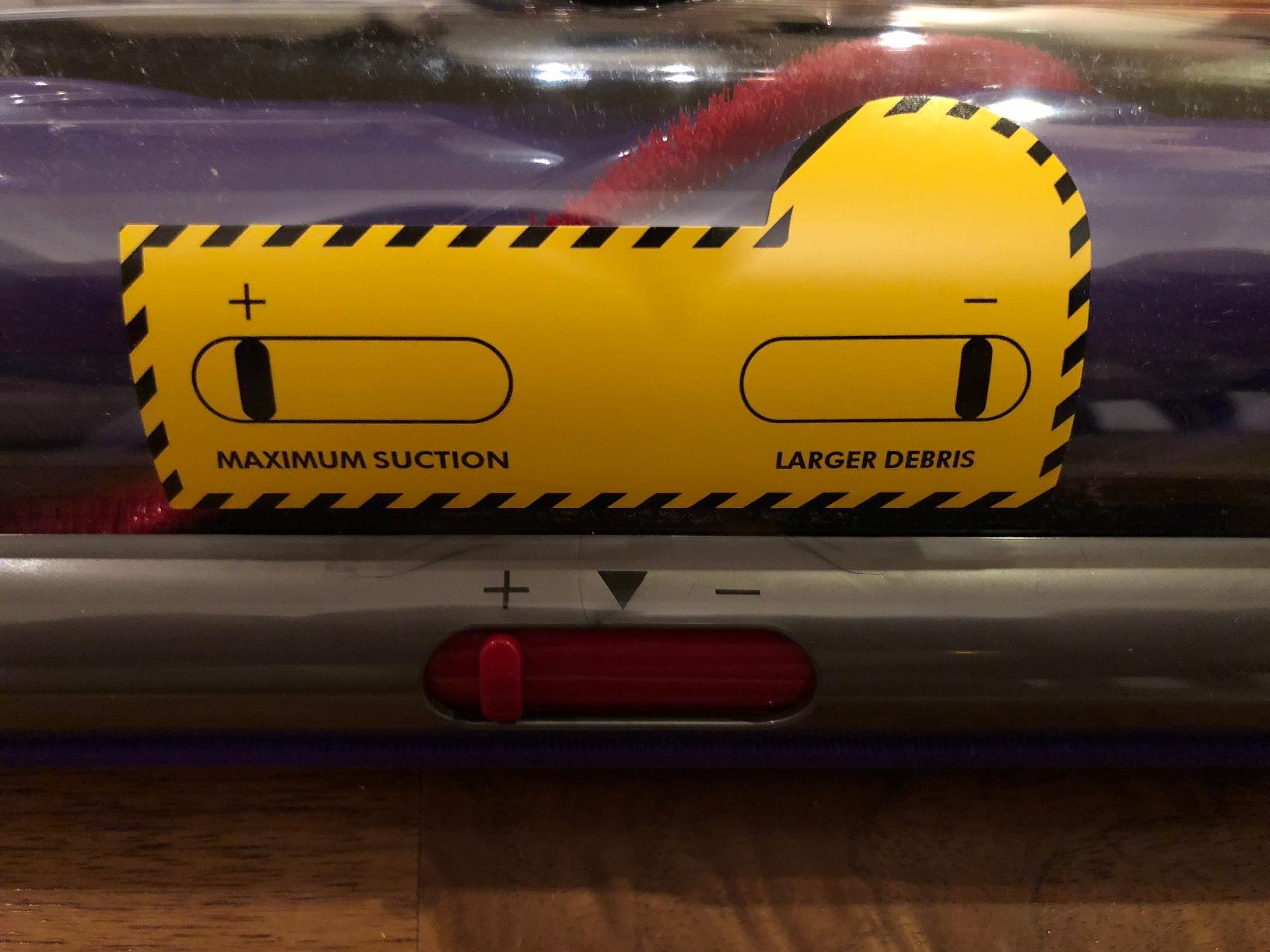 This floorhead steers with ease on front rollers and a rear support. It glides easily, and goes where you direct it on all surfaces. The neck has full freedom to rotate and lean, and it easily gets under low furniture.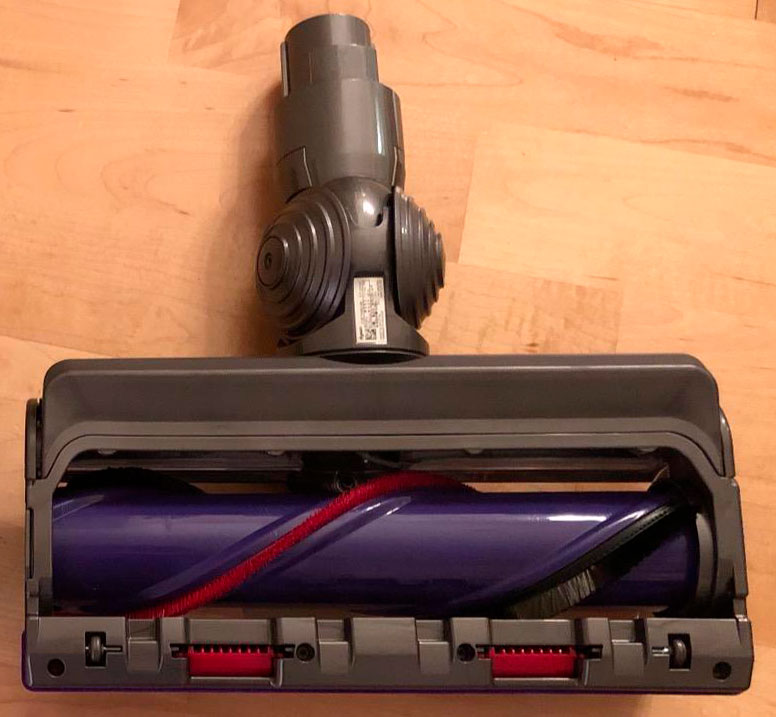 It's great for carpets and robust hard floors like tiles and laminate, cleaning all types of dirt, from pet hair to cat litter.
Soft roller cleaner head
If you have polished wood floors, the soft roller cleaner head is irreplaceable.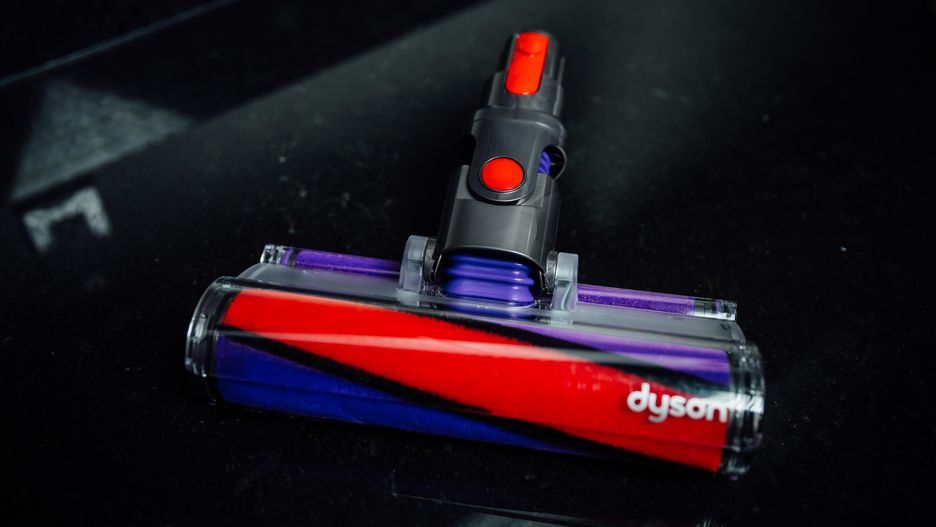 Even on the lowest power setting in just one pass on hard floors, it picks up more dirt than many mains-powered cleaners. Like the torque drive head, it steers easily and can lay almost flat to get under low furniture.
Its brushroll has a very soft felt-like surface interlaced with several rows of anti-static carbon fiber. It's designed to fully engage a bare floor and help remove stuck-on dust. Another small gliding roller at the back of the cleaner head is also felt-covered.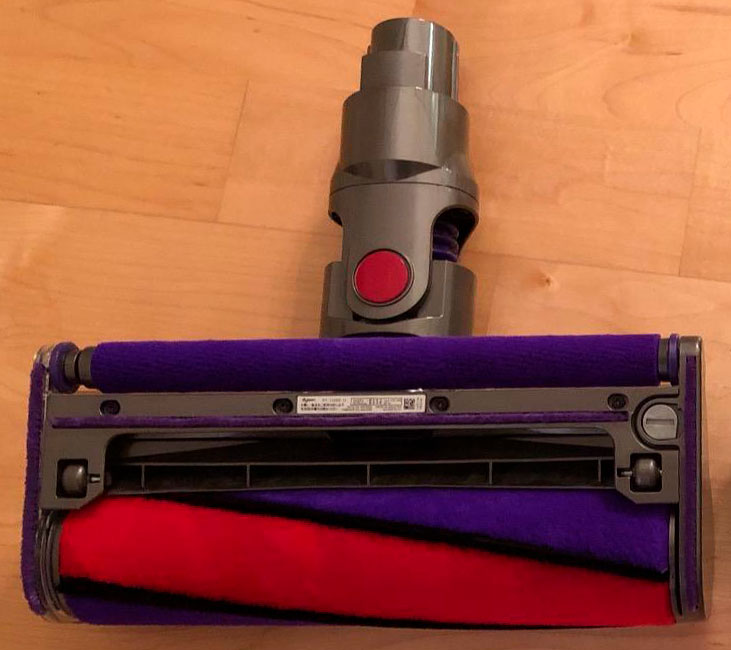 The soft roller cleaning head marvelously removes dirt from hard floors while being gentle on the surface. It even picks up cat litter without throwing it around.
Both rollers can be removed from the cleaner head and rinsed in water to keep them clean.
Mini Motorized tool
The mini motorized tool is good for small areas like stairs, upholstery, dog's beds, etc. It has a fixed neck, but its tilting floorplate helps to keep the brush flat on the surface.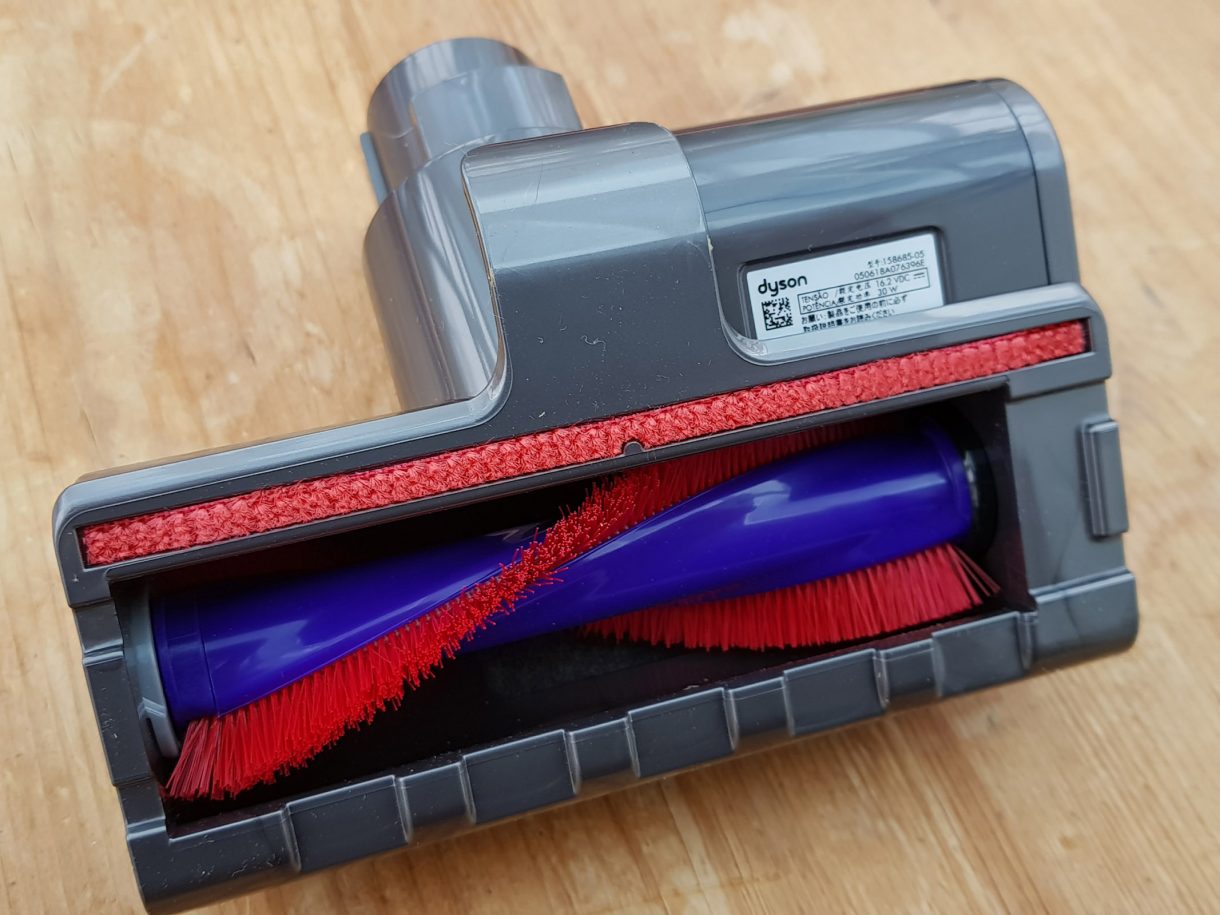 On the lowest power mode, the head still does a good job of picking up hair without sucking in baggy fabric material.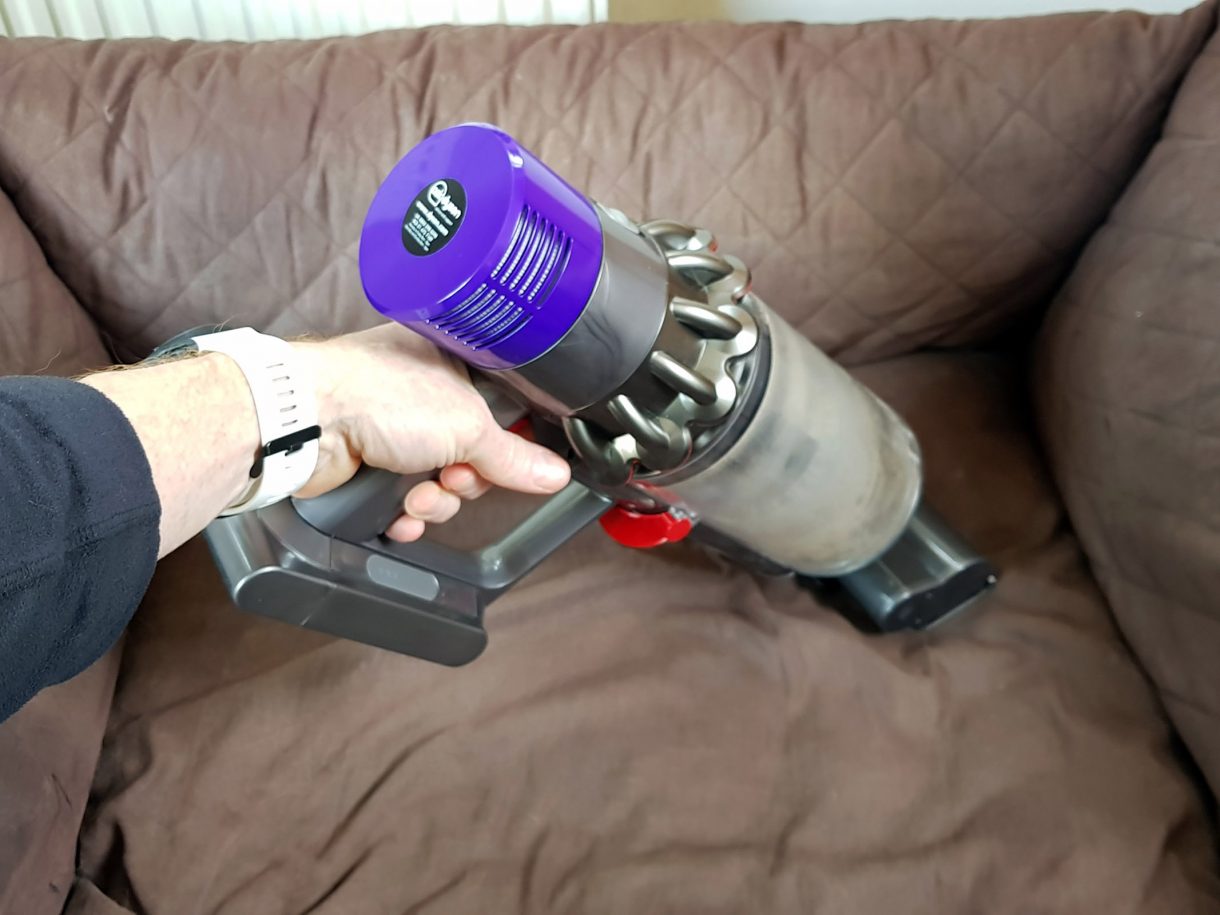 For upholstery with tightly-fitting covers, suction mode 2 can be used with very good effect. The smaller tool concentrates the suction effectively and the bristles dislodge all but the most stubborn pet hair.
Mini soft dusting brush
The mini soft dusting brush has very soft bristles and is suitable to clean dust from the furniture.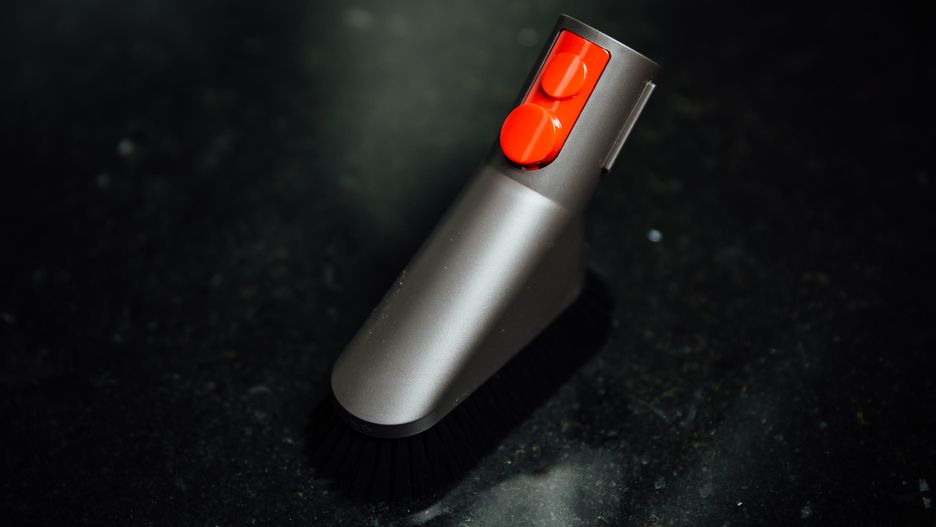 Crevice tool
The crevice tool has good length and size, and features side vents that help keep the nozzle from suctioning onto surfaces.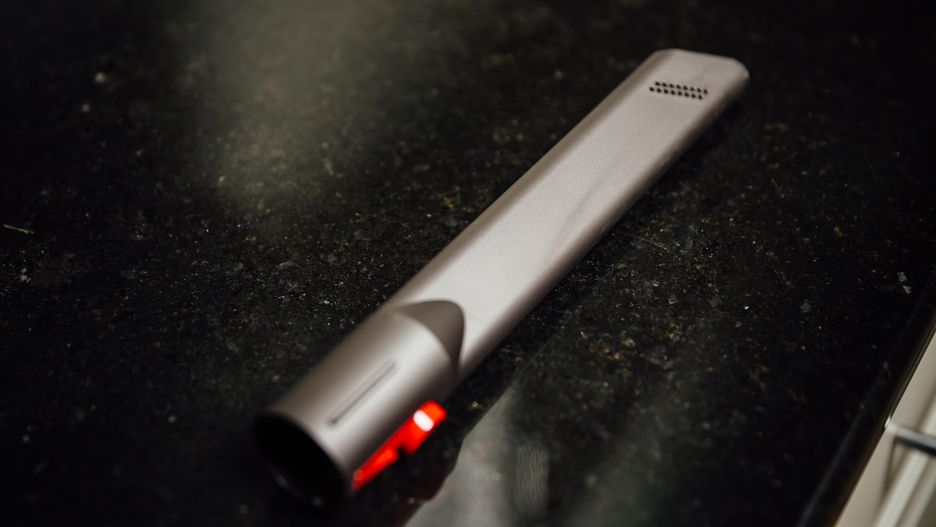 It's useful for cleaning the nooks and crannies in sofas and car seats.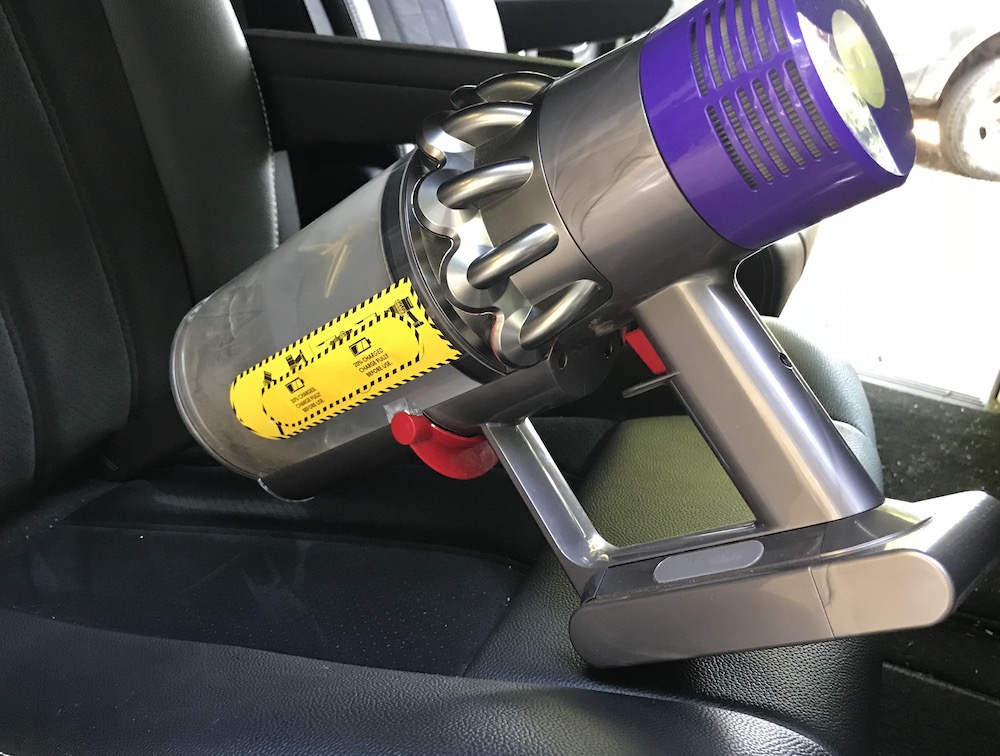 Combination tool
The combination tool has slightly stiffer bristles than the mini soft dusting brush. You can also slide part with the bristles back and use the bare plastic nozzle.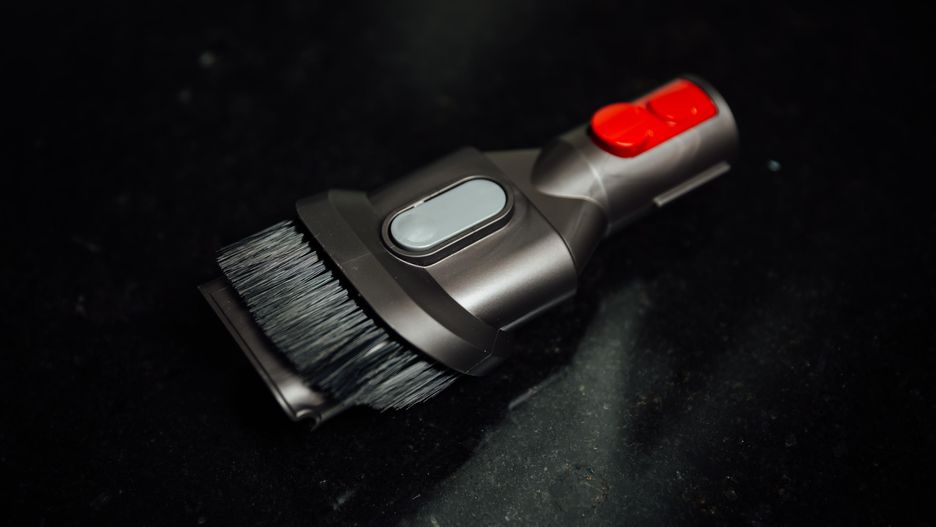 The combination tool is useful to clean along ceiling lines and corners.
Maneuverability
The vacuum is very maneuverable. The floor cleaner heads swivel with ease, allowing you to corner around walls, obstacles, and furniture without much effort. The low-profile and mobile joints allow the machine to get under low furniture. You can get it almost parallel with the floor.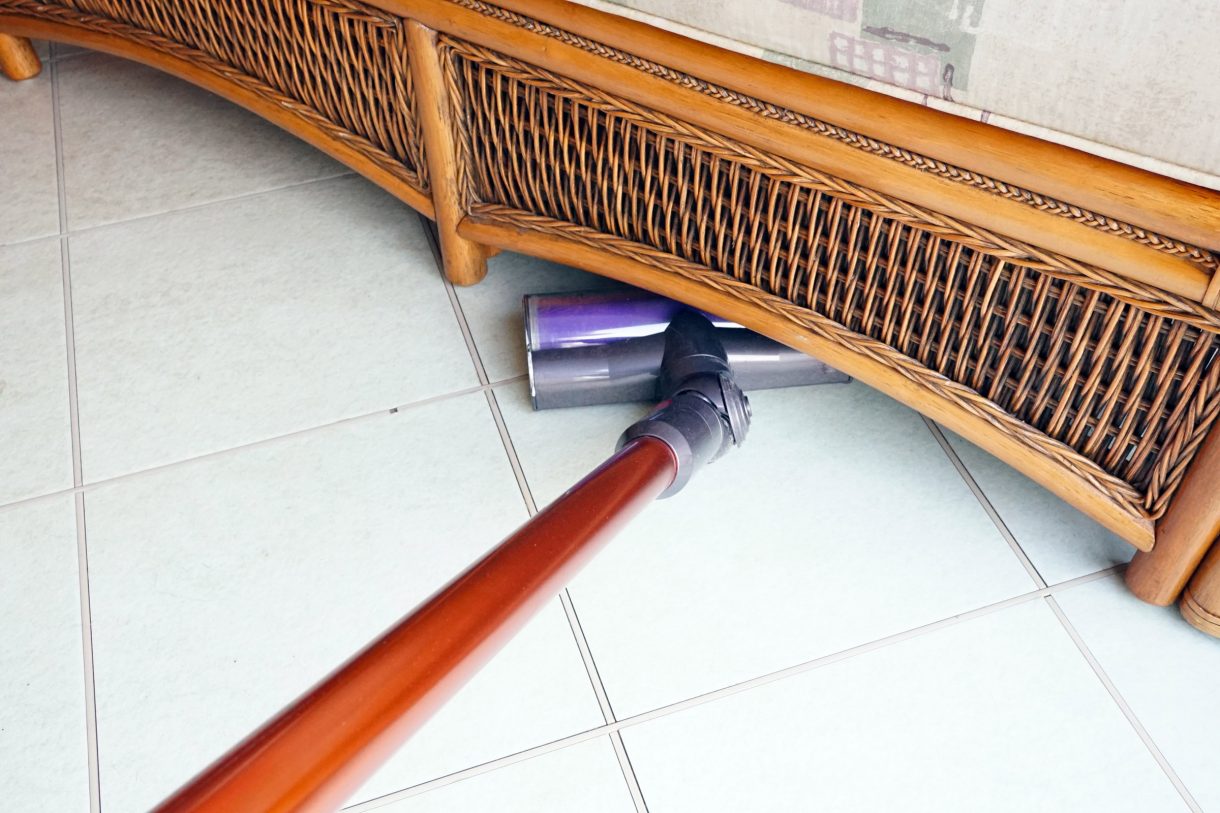 The cleaner heads glide over the different surfaces, from wood floors to carpets, and the vacuum is lightweight, so it's easy to push and pull the vacuum smoothly. The floor cleaner heads have a clean path of almost the same width as they are, without "blind zones," so they clean close to the walls and leave no dusty tracks along the baseboards.
You can also lift the stick up to clean higher areas, such as above shelves, along lines and in the corners of ceilings or doorframes, etc. In handheld mode, the V10 is lighter and much easier to maneuver around above your head. With the smaller device in hand, you can get into tight corners and crevices quickly.
Usability
Being cordless, the Cyclone V10 is limited by the battery runtime, but it frees you up from spending time and effort managing, winding, unwinding, plugging, and unplugging the cord. Without a cord, you're not tied to the wall socket and can vacuum anywhere inside or outside, such as your car.
Battery
Dyson Cyclone V10 has a Lithium nickel cobalt aluminum oxide, or NCA battery, 25.2V 2600mAh 66Wh. It can last up to 15 years or 800 full cycles (whichever comes first). Dyson says that the battery will rarely be fully discharged, so it should last the specified 15 years under reasonable home usage.
Runtime
Runtime on a full battery charge depends on the selected suction mode and cleaning tool used. Here is a table of estimated runtime in minutes:
| | | | |
| --- | --- | --- | --- |
| Power/cleaning head | Low | Medium | Maximum |
| Non-motorized | 60 | 30 | 7 |
| Motorized | 40 | 25 | 6 |
To start vacuuming you pull the trigger, which can't be locked in 'on' position. When you take your finger off it, the vacuum stops. This helps to save battery usage; you don't waste energy as you go from one spot to another without actual vacuuming. So, less runtime is actually needed, compared to a vacuum with an on/off switch. You also let the battery cool down in between vacuuming sessions.
Charging
V10's flat battery pack with charging port is built into the vacuum handle. A full recharge takes about 3.5 hours, during which the vacuum will not work. Note that if you vacuum in Max mode for a long period of time, the battery pack will be noticeably hot to the touch. To help prolong battery life, avoid recharging immediately after a full discharge. Allow the battery to cool for a few minutes.
Due to the big, long dustbin, the V10 won't stand up on its battery pack to charge, but falls forward. If you keep your cleaner on a shelf rather than in the wall dock, it will lean over and take up more space. There is no way to detach the battery and charge it separately, so you can't buy an extra battery pack and use it while the original one is charging; moreover, it's not supposed to be replaced by the user.
Operating
Trigger
Since it's not possible to lock the vacuum on, the trigger must be pushed and held the whole time when you are vacuuming. The button is quite light to push. This conserves some battery life, but after a while, it can cause some discomfort in the finger.
When you release the trigger, the vacuum stops almost instantly and makes a weird "boing" sound. Dyson engineers call this "the Boing Effect." Don't be surprised: magnets inside the motor bounce between the stator positions like a ping-pong ball bouncing on a table, causing this specific sound.
Changing attachment
The way in which the tools attach to the vacuum feels good. The attachments "click fit" on the end of the wand or on the end of the handheld component of the vacuum. They are held fast and will not fall off. A red button is pressed to release the tool.
Storage
There is a rubber pad on the bottom of the vacuum, which allows the V10 stand up vertically, leaning on a wall, without danger that the whole thing will fall over.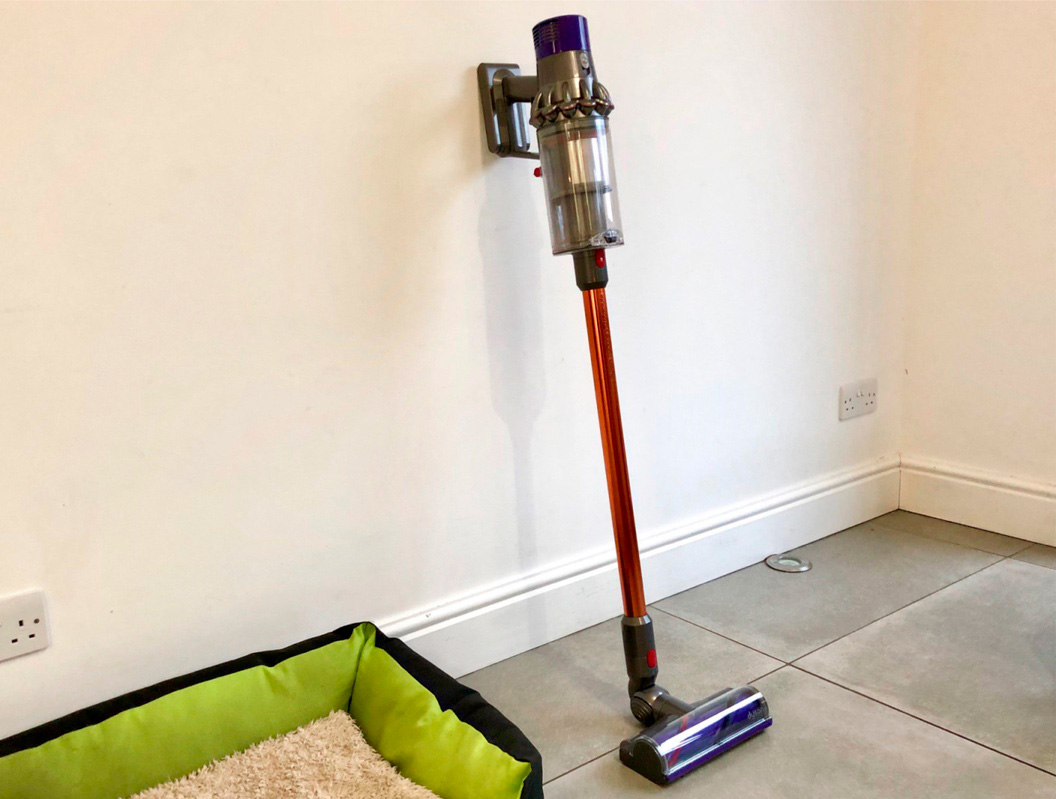 The V10 also comes with a wall-mounted charging dock with tool storage. It holds only two tools, so you will have to find a place for the rest of them elsewhere.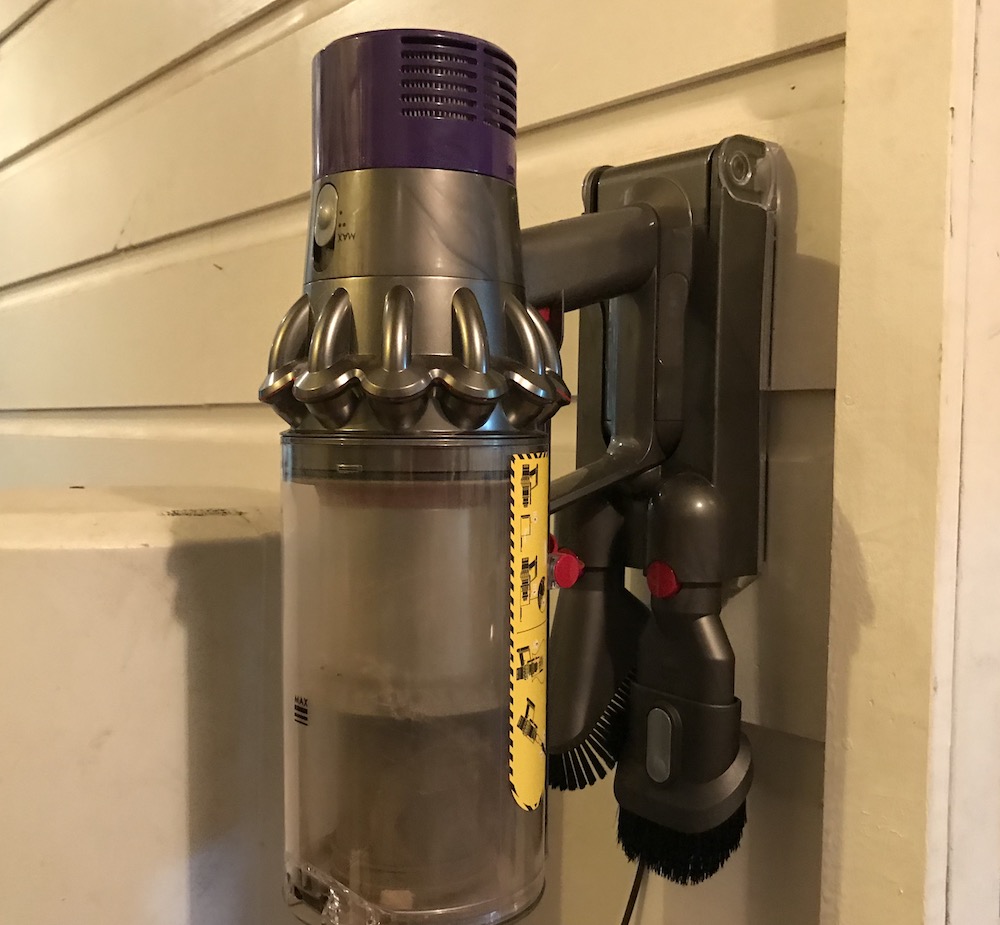 Noise
V10 makes relatively little noise in low power mode. It has sound-dampening material around the motor, which clearly makes it quieter. In Max mode, though, it's as loud as your average corded vacuum. It also makes a lot of high-pitched noise when vacuuming at Max power, which can be unpleasant for sensitive ears.
Multi-cyclonic sealed HEPA filtration
Dyson Cyclone V10 is a bagless vacuum that uses multi-cyclonic technology for primary filtration. Behind the dustbin, which creates the big cyclone, sits the expanded cyclone array with 14 chambers in total, which form 14 smaller cyclones for finer filtration.
Secondary filtration is done with HEPA filter wrapped around the motor, making a sealed unit, which filters out 99.97% of particles as small as 0.3 microns.
Maintenance
Dustbin
Dyson Cyclone V10 has 0.77-liter dustbin, which is fairly large for a handheld/stick vacuum.
To empty the dustbin canister, you have to remove the wand first, point the vacuum into the trashcan and push the red lever under the dustbin. The whole bin slides away from the body, the bin flap opens automatically, and the contents fall into the trashcan. In addition, a rubber seal slides down the middle of the canister to help push more dust off the middle cylinder.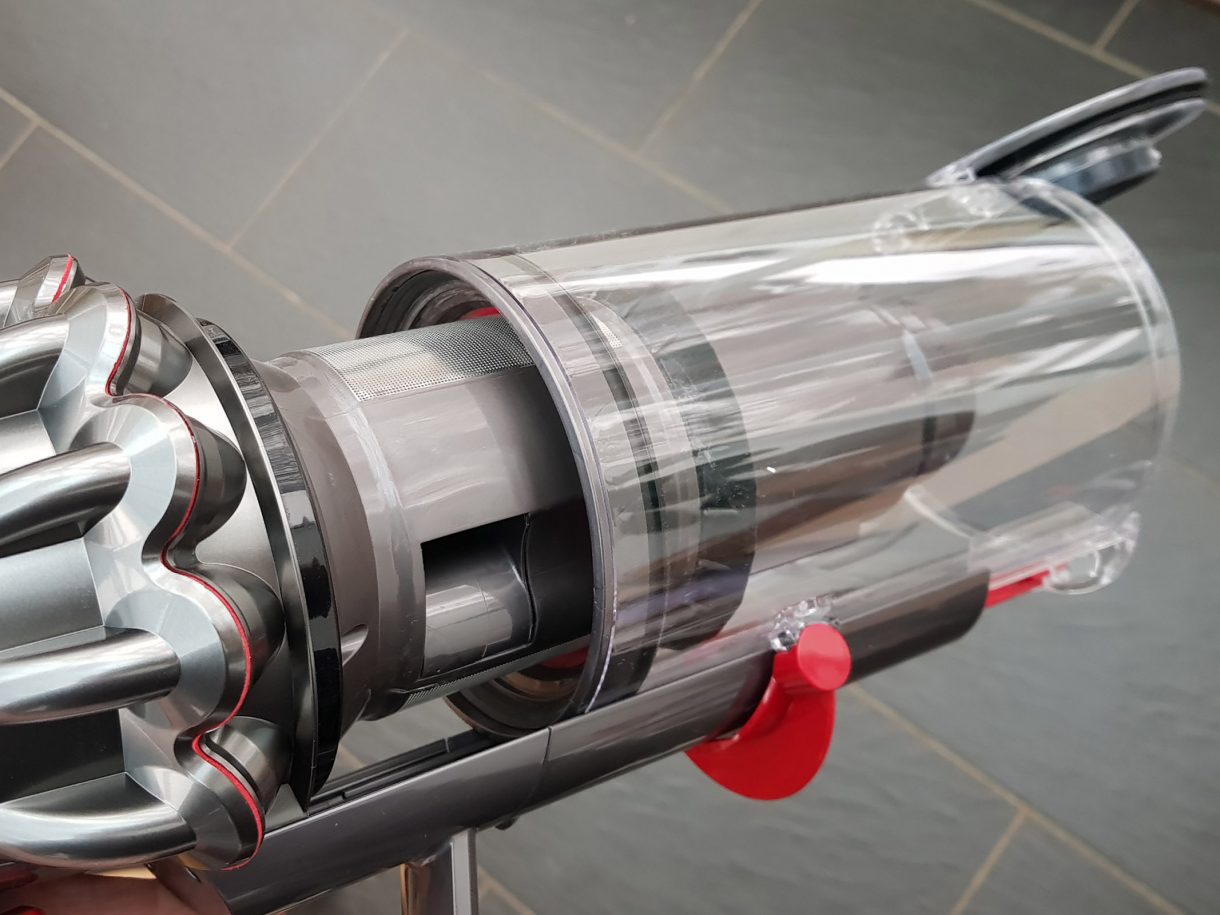 Dyson calls it hygienic 'point and shoot' bin emptying; however, when you empty the canister, dust flies everywhere, which is not good for allergy sufferers. Nevertheless, that is common for all bagless systems.
Sometimes, long hair or other like objects get stuck in the bin. In such cases, there is a small button on the side that allows the bin to pull away from the cleaner completely.
In addition, the plastic lever feels a little delicate and it's not overly comfortable to put pressure on it, as it flexes alarmingly. However, it is strong enough and doesn't break in normal use.
Cleaning the filter
An indicator on the base of the unit will light up when it's time to clean the filter. The filter is at the very back end of the vacuum and you can remove it with one simple counter-clockwise twisting motion.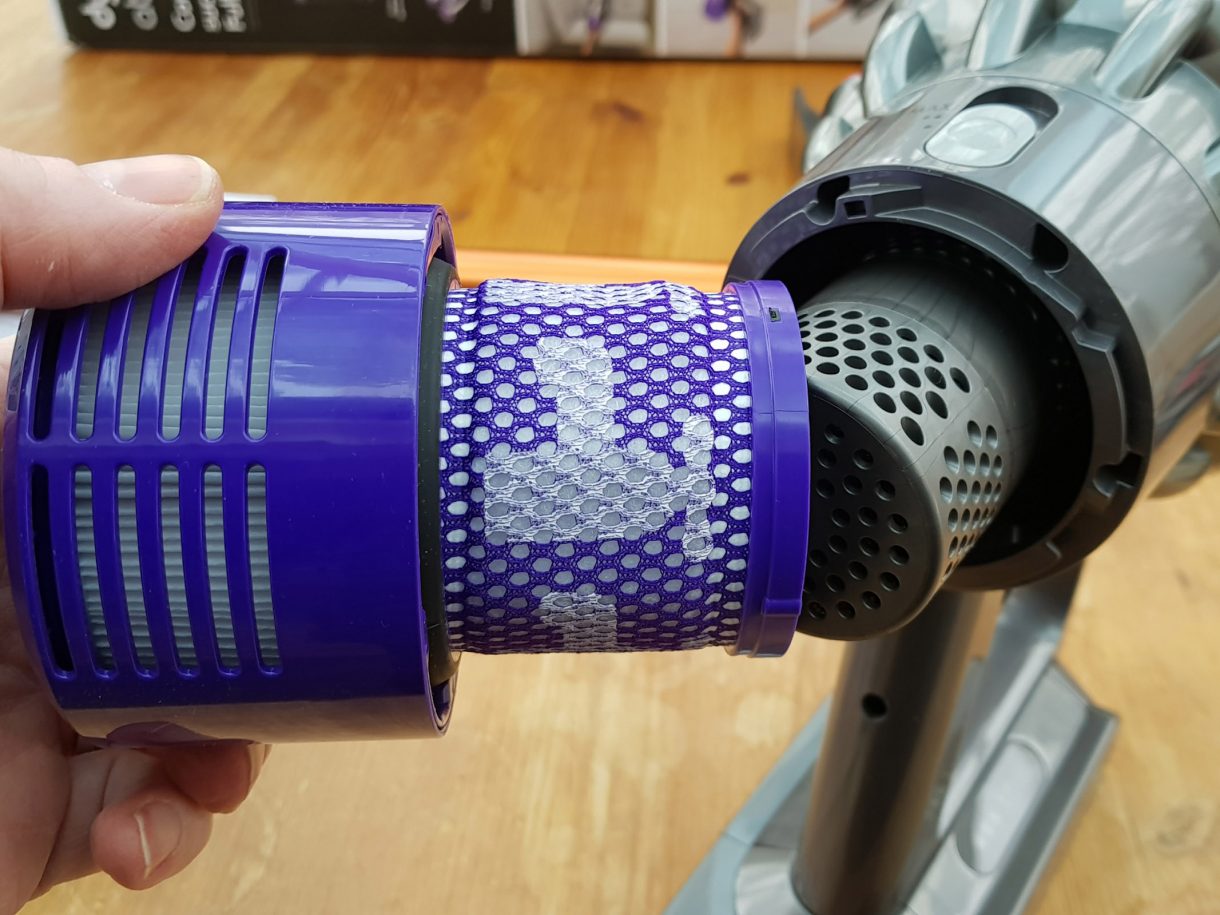 The filter is fully washable, so you don't have to spend money for extra filters. Just make sure it's dry before reinstalling it. The vacuum won't run and the filter indicator will flash unless the filter is in place.
Blockages
Dyson V10 has a blockage indicator on the battery that lights up when something is stuck in the dustbin, the extension wand, or in the brush. The vacuum will cut out automatically in such a case. You may take apart the vacuum, find the blockage, and put the parts back together.
Reliability
Dyson is known for manufacturing high quality and reliable vacuum cleaners. V10 is made of durable materials and comes with two year limited warranty. Dyson also provides customer support.
What is in the box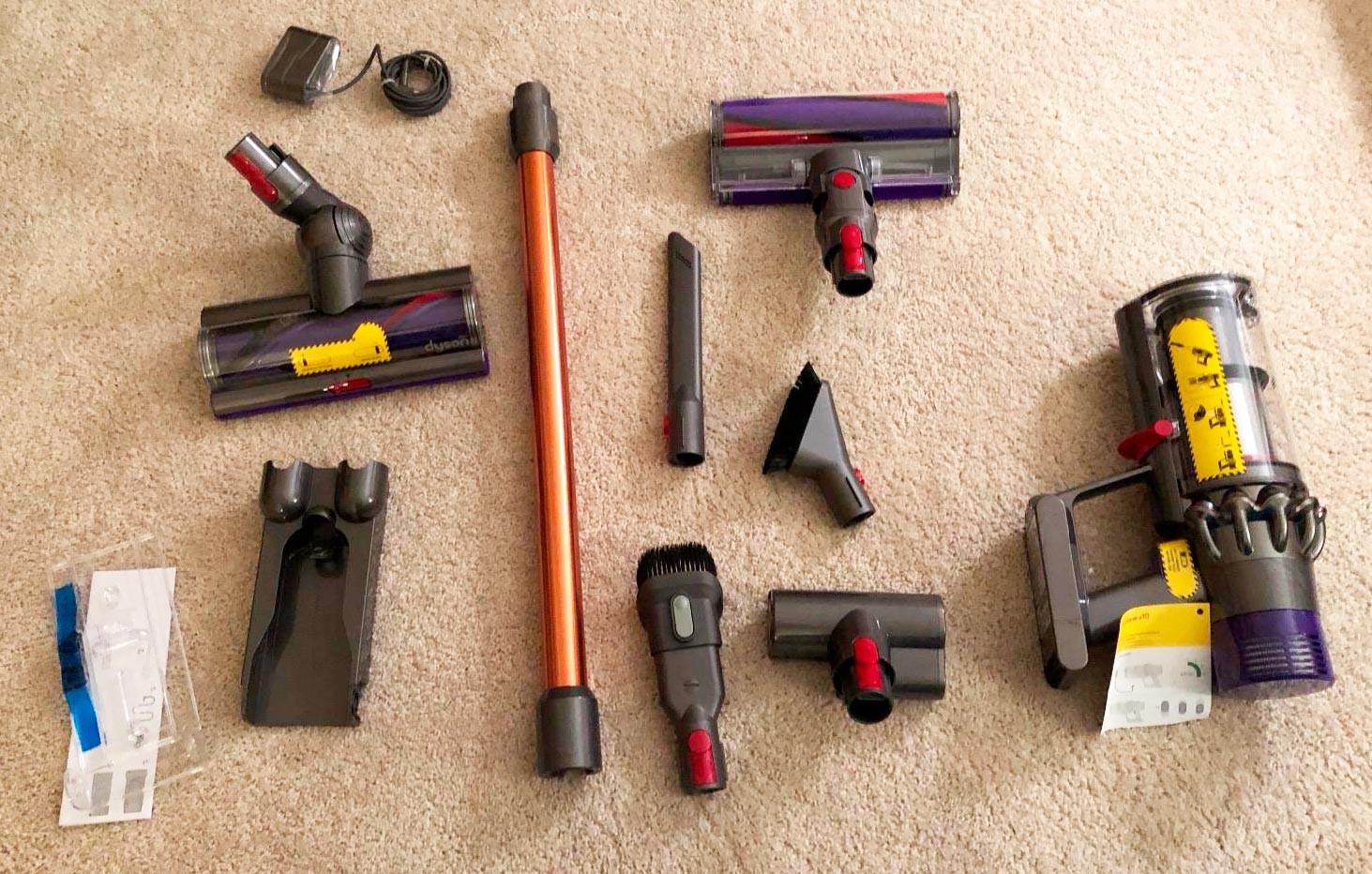 Dyson V10 Absolute Vacuum
Docking station (wall mount)
Combination nozzle
Crevice tool
Mini motorized tool
Dusting brush
Soft roller cleaner head (for bare floors)
Torque drive cleaner head (for carpet)
Dyson Cyclone V10 Absolute specifications
Type

Stick

Cord type

Cordless

Bag type

Bagless

Roller brush

Motorized

Transformation

Handheld

Battery energy

66

Wh

Swivel steering

Yes

Shape

Upright

Filtration Efficiency

Sealed HEPA

Cyclonic

Multi-Cyclonic

Input power

99

watts

Power Boost

Manual

Height

49.2

inches

Weight

5.9

pounds

Dustbin capacity

0.77

liters

Runtime

40

minutes

Battery type

Li-ion

Warranty period

2

years

Warranty type

Limited

Cleaning path

9.8

inches

Length

9.5

inches

Width

6

inches

Brand

Dyson