Technical overview
Eureka SuctionSeal 2.0 Pet Rewind maintains a technology of a direct air that goes through a limited number of curves and bends, which allows to provide additional suction intensity to effectively remove dirt from carpet. Its multifunctional approach to cleaning floors comfortably deals with any surface. Shifting between options is easily done by pressing the button in the bottom. It turns off/on the brush roll and avoids scratching bare floors or enables deep cleaning of carpets. Additional tools include pet power paw turbo nozzle, pet dusting brush and crevice tool. There is also a built-in telescopic wand to reach the area around the ceiling. The model is 13.5 x 12.5 x 43.5 inches in size, and manufactured with plastic materials, so the total weight is 16.5 pounds. The ease of carrying around the house or pushing the device on the surface is achieved not only by its weight, but as well due to the Smooth-Glide pivoting base and rubber wheels, which also designed for better protection of the hard floors. There is a 27 feet power cord, that is quickly retractable at a press of a button. Additional savings are possible through the reusable dust cup filter, because it can be washed simply under running water.
Device in practice
The first consumer's impression is formed immediately after opening the package with the vacuum. It is very easy in assembling and takes about 10 minutes to snap together the six available components without involving any screws. While working, it produces less noise than you might expect. You will be able to hear people talking in the room with no need to be loud and shout. Rubberized corners save furniture from scuffing after accidental hits, and there are no bumpers that will hider to get closer to the wall or under bed.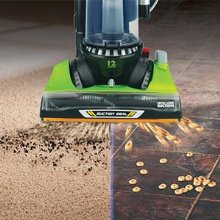 The telescope metal wand is not long-enough to reach a standard 8 feet ceiling, but it is rather lightweight, which makes it comfortable to use. After the usage of the vacuum, all the dirt is distracted and dumped out from an easily-detached canister, which is an advantage over the bag-vacuums. A special attention was also paid to operational controls as they appear large, distinctive, and obvious. The power cord is not comparably long, but it is built into the machine and retracts by pushing a button. The crevice tool and the power paw nozzle actuate by air and perform well. Actually, it is necessary to emphasis on the suction power of the device, because it picks up dirt and hair even on an already vacuumed carpets. Suction seal technology has given visible results, because suction is definitely a strong point of the model. Direct air technology reduces the distance of carrying the picked-up dirt and intensifies the power of suction. Price is another major advantage that comprises and crowns all the above mentioned technical and practical aspects of the device. It's significantly less than expensive models of similar functionality and fits the average range for pet hair vacuum offers.
Disadvantages
One of the concerns is directed to the plastic materials of the model. In particular, clips, holders and hose can be found flimsy and short-lasting. But this comes more from the past experience of heavy vacuums, that give an impression of being fully metal constructed and forever-lasting. Eureka, as well as its competitors, uses modern technologies that allow plastic materials to be reliable and trustworthy. The company provides a 3-years warranty and an accessible service support to prove its confidence in the product quality.
Also, the absence of frontal light to illuminate the vacuum path in passages may be considered as disadvantage. But it rather looks more like a desired bonus, than a real problem.
Recommendation
All in all, Eureka SuctionSeal 2.0 Pet Rewind fulfils the expectations. It is convenient, multifunctional and powerful. If you look mainly for a device that will thoroughly perform its duties, than the model is an excellent choice for a reasonable price.
Eureka SuctionSeal 2.0 Pet Rewind, Bagless Upright Vacuum AS3104A - Corded specifications
Type

Upright

Bag type

Bagless

Roller brush

Motorized

Cord length

27

feet

Height

43.5

inches

Weight

16.5

pounds

Warranty period

3

years

Warranty type

Limited

Length

13.5

inches

Width

12.5

inches

Brand

Eureka